WILSHAW SUPPLY CO | Coffee Ranges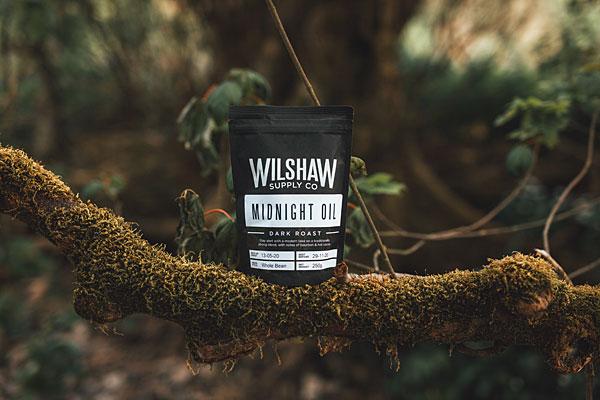 Combining the passion of spending time on the bank with the thirst for a satisfying cup of coffee, Tom Henshaw started the Wilshaw Supply Co, a specialty coffee brand that roasts fresh to order. As avid coffee drinkers ourselves, we are always looking for the best blend of the good stuff to keep us going throughout our session and we believe we have found it!
Offering four unique blends, all boasting ethically sourced coffee beans with unrivalled freshness and superior qualities, there is a flavour to suit you and equally any outdoor pursuit you find yourself engrossed in.
The medium roast blend available is the aptly named Scenic Route. With notes of chocolate and dried apricot this light and fruity number can be enjoyed both hot and cold and was actually inspired after long walks through the forest, perhaps the perfect choice for those long hours spent walking and scouting out your next chosen venue!
Moving on to the dark roasts we have Midnight Oil. Offering a modern take on a traditionally strong blend, this smooth flavour brings with it a certain kick while offering tones of bourbon and hot cocoa, perfect for those late nights when you want to stay alert. With a low acidity Midnight Oil is a fantastic option to have black, so if you are often forgetting your milk then it could just pay off having a bag in your brew kit!
Reflections is next on the menu. If you have been out for a long period, beaten by the weather or hopefully endured some adrenaline boosting action on the bank, this is perfect to sit down with, reflect and bring yourself back to reality. A deep and complex blend of oak smoke and spice, this is the coffee we will be choosing for when the action picks up or those autumn storms roll in.
Lastly but by no means least is our favourite to date, Golden Hour. Described as smokey but smooth, this is the ultimate everyday coffee selection, and we certainly drink it every day! When combined with milk it makes a perfect latte or cappuccino, and even when drunk on its own you get the subtle hints of both toffee and chocolate!
Available in a handy 250g or a larger bulk 1kg option, there are several grind styles available including whole bean, filter, espresso, aeropress and cafetiere. This is all about you enjoying the best cup of coffee you can, and that's why Tom and his enthusiastic team are committed to producing the exact right grind to make it easier and more satisfying for you to enjoy at home, on the bank or out on your next adventure.
Ensuring optimum quality for each delivery, the beans are roasted fresh to order and are aimed at arriving straight to your door within two working days for maximum flavour. For your next session why don't you just treat yourself, and we guarantee you won't be drinking instant coffee again!
RRP: From £7.50
WEBSITE: www.wilshawsupply.co
Exclusive to Total Carp readers – use code 'TotalCarp20', for 15% off (ends 1/11/2020).