SHIMANO | TX-2 Cork Rods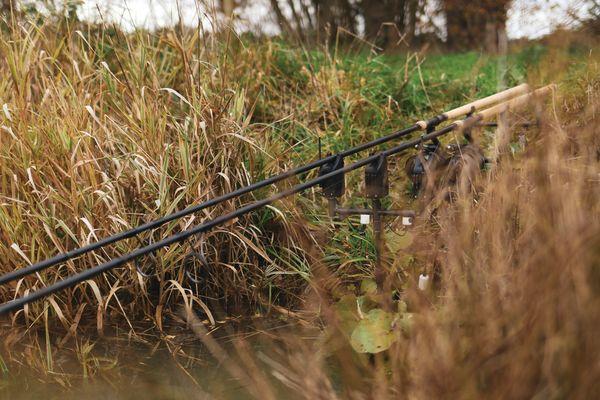 It really is astounding how high performance rods can be obtained for such a low price in this day and age. For those who are sceptical you'd better believe that there are some models out there that shine far brighter than the rest and it came as no surprise that one such rod is found within the ranks of Shimano. The rod we speak of is the TX-2, a beautifully crafted tackle item so popular among both aspiring and professional carp anglers alike – it was even the bestselling rod for the brand in 2018. Their popularity still continues today and sells exceedingly well, so much so that Shimano decided to release a cork handle version in various lengths and test curves. Shrink wrap, Duplon and EVA handles are certainly hot at the moment but there is something about a cork handle, especially once aged, that looks so classic in a setup! As well as the aesthetics there are benefits to using a cork handle as the light material is very long lasting and remains comfortable to use even in the coldest months.
Shimano has realised there is a demand for cork and has responded with the TX-2 line receiving five cork handled additions to the already extensive range. Included are three 12ft rods in 2.75lb, 3lb and 3.25lb test curve, one 10ft rod in a 3lb test curve and a 13ft rod in a 3.5lb test. Every rod apart from the 10ft model makes good use of a 50mm butt ring (the 10ft uses 40mm) which is proven to reduces frapping and unnecessary friction on casting. The stainless Seaguides are double legged and make for an extremely durable build where breakages will be highly unlikely in transit. An oversized anti-wrap tip helps furthermore in reduction of frapping, and the DPS reel seat will be able to house all manner of reels with ease for a balanced and efficient setup.
Many faithful users of the TX-2s will tell you that playing a fish of any size on these blanks is an absolute joy, but these are also a powerful and accurate casting rod too. The progressive action is enabled through the use of the XT60 carbon blank, which provides beautiful and consistent casting performance. The stepped-up models are serious beasts and in the right hands can deliver rigs at ranges of over 200 yards – in fact these come highly recommended by casting legend Terry Edmonds!
The TX-2 is as reliable as any high end rod on the market, and what is so marvellous about the range is that no rod will cost you more than £129.99 either, in fact the 10ft model retails at just £104.99!
RRP: £104.99 to £129.99
WEBSITE: www.fish.shimano-eu.com