AQUA | Atom Rods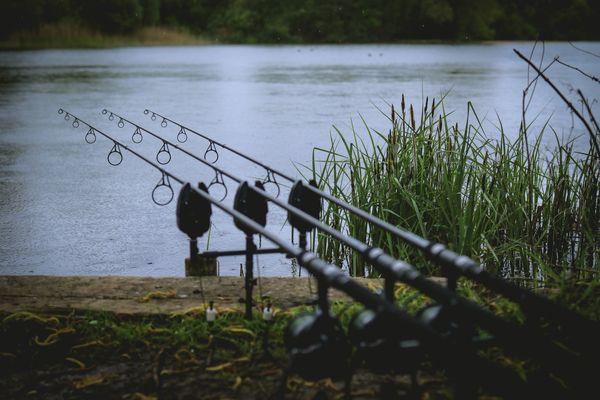 I've long been a fan of 10-footers, having used stalking rods extensively in my fishing long before the arrival of these retractable butt style rods. While a 9ft rod, or shorter still 6ft, is great for laying traps in tight spaces, I always found the extra reach of the 10-footer made lowering baits carefully on to a spot that little bit easier, while still being short enough to wield under the canopy of branches.
The benefits of the retractable butt for me were twofold, providing both a smaller pack down size, but also a shorter rod for working your way into the undergrowth without getting everything caught in the overhead branches. Then, once in position, the rod could be extended over the water to lower the rig into position.
For a year or two I tested a set of Sonik's Xtractor rods and for the price I was pretty damn blown away. Although they did pretty much everything I asked of them, I did fancy getting myself an upgrade with a higher quality materials and finish. Now, I would still happily use the Xtractors and personally recommend them to anyone looking for a set of reasonably priced shorter rods. There are loads of these retractable rods now on the market at a range of prices, and when the opportunity came to test out a set of Atoms I certainly wasn't complaining! They fit the bill exactly for what I was after.
Available in only 10ft models, in 3.25 or 3.5lb test curve (they also do a 4.5lb test curve for super-heavy work), I decided to opt for the heavier of the two standard test curves. I personally find that being shorter rods and therefore not having the longer butt section of the rod, you don't have quite so much leverage and therefore prefer something a little stiffer. The rods have beautiful 1k Japanese carbon blanks, which are fitted with a large 50mm ringing pattern of high-quality Pacific Bay Minima guides, which look gorgeous on the rods and also help with casting performance. On the topic of casting performance, I have actually used these rods to fish three rods on a spot effectively at roughly 90 yards range with 0.40mm mono, though I would personally prefer 12-footers if this is the sort of fishing I had been planning to do. That's obviously not the maximum casting performance, but it's what I'd personally choose to fish at.
The rods are available in full duplon and corks, but I personally went for the darker duplon option, this simply being my preference. The handle's finished off with an genuine 18mm Fuji DPS reel seat and a discreet custom-made black anodised butt cap. The handle section also features a discreet carbon line clip. This is actually a handy feature when freelining to ensure your line doesn't loop off your spool under the lack of tension.
Finally, having now played a number of carp to around the 30lb mark, I can genuinely say these are a pleasure to play fish on with a really smooth, progressive action, while retaining plenty of power to stop carp from heading for snags.
RRP: £234.99
WEBSITE: www.aquaproducts.co.uk
MATT'S VERDICT: "10ft retractable rods with top class looks and performance."