RIDGEMONKEY | EcoPower USB Heated Gas Canister Cover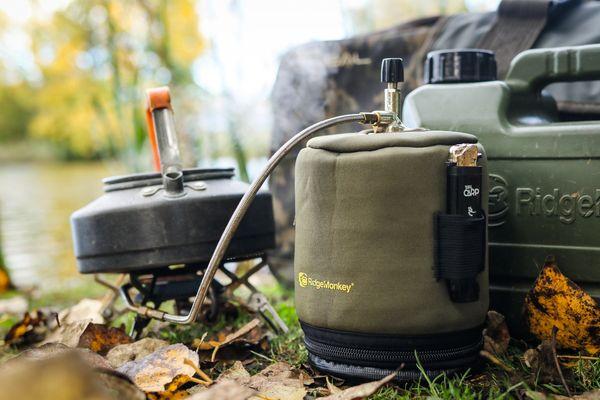 As the cold weather firmly takes hold it has never been more important to eat and drink well on the bank, but the seasoned anglers among you will all be too familiar with the effects the cold has on your gas! You will either be a bottle shaker, a gas on the stove daredevil (which we definitely do NOT recommend) or perhaps a Coleman user.
Always thinking, the team at RidgeMonkey have just launched the newest addition to their cookware range, which will simply eradicate this issue for seamless cooking even in the coldest of weathers.
The new Ecopower USB Heated Gas Canister Cover is a fully electric heater that gently warms the gas canister, ensuring maximum efficiency from your gas supply. Utilising a 5V 2A input compatible with almost all external USB power sources, simply insert your gas canister into the sleeve, switch on the device with the external switch and get ready for instant effortless cooking. The cover fits the most commonly used 440-500 size butane/propane gas canisters and they are sealed in the bottom of the cover by the bottom zip, ensuring a snug fit so that the whole canister receives the heat treatment for an even and undisrupted gas flow.
The cover itself is as good as traditional covers get, boasting an olive green weather resistant and wipe clean neoprene outer, complete with the handy elasticated spoon strap.
What we like about this item is the fact that as well as ensuring a constant and controllable level of gas output, you can also ensure you make use of every last drop of fuel, ensuring you get your money's worth from each and every gas canister, which is perfect for ensuring you are running an efficient system and not wasting any precious fuel!
RRP: £19.99
WEBSITE: www.ridgemonkey.co.uk