RIDGEMONKEY | Armoury Tacklebox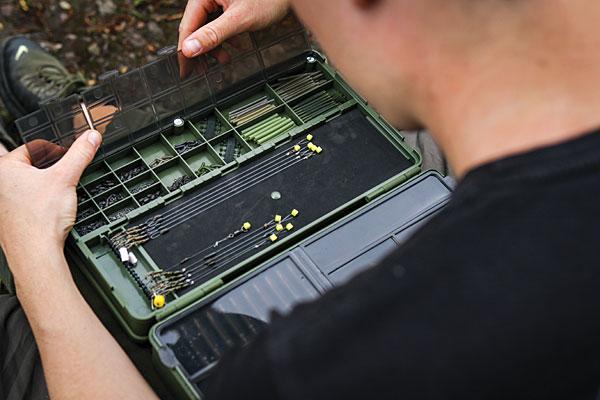 Many of us pride ourselves on having the latest rig, our most honed presentations, and our tried and tested setups ready to bank our next carp, but with an ever growing number of bankside tools, specialised components, new materials and of course all the little bits and bobs we as anglers acquire over a lifetime of fishing in specific situations, where can you keep it all to hand?
We are pleased to announce the latest release from tackle giant RidgeMonkey sees the brand new Armoury Tacklebox hit the shelves this month. Armoury by definition is either 'a place where weapons are kept' or alternatively 'an array of resources available for a particular purpose'. Well we believe the Armoury Tacklebox is testament to both definitions, allowing you the angler a safe place to store and transport your valuable resources to produce your finest presentations, to take on your next quarry!
Having spent years in extensive testing by the forward thinking and ingenious product development team both across UK waters and abroad, the team are finally prepared to announce the release of "The only all-in-one tackle box on the market"!
Measuring in at 330mm x 190mm x 105mm this Goliath tackle storage solution encompasses no less than three rig boards to house a wide selection of your finest, pre-prepared rigs. The tackle box also comes complete with 45 single pins and 30 double rig pins, so you can get the Armoury loaded to the hilt ready for your next bankside assault! An integral measuring tool has been built into the Tacklebox ensuring precision when constructing rigs, allowing you to tie with the utmost efficiency, not only getting the most out of your hook links and materials but also achieving the same results time and time again.
Featuring a magnetic lid and hinged double tier design, you can open varying sides of the box, allowing you to easily access your kit with minimal fuss while keeping every item positioned securely. With a staggering 29 compartments, complete with secure lids, you can rest assured there will be a home for all of your terminal components, which can be neatly stored away and organised in any number of ways, be it by size type or use!
Meanwhile contents can be easily viewed through the clear compartment tops, ensuring the next required item is quick and easy to find. The compartments come in an array of sizes allowing you to tailor what items you store, from scissors and tools, to hooklink spools, shrink tube and sleeves, swivels, hooks and more!
The box itself is constructed from a blend of robust ABS and polypropylene materials, ensuring that it can take a harsh life out on the bank, being slid under your bedchair, thrown into your barrow, bucket and ruckall while safely storing and protecting all of your valuable terminal tackle.
As you would expect, coming from the proven RM stable, the Armoury is a sleek design with a minimalistic matte green finish and stylish smoked black compartment lids. If you are in the market for a new tackle box, perhaps you want to refine your tackle and get organised for your coming campaign or even want to try and keep more of your favourite components to hand as opposed to various tackle boxes and bags, then look no further than the Armoury Tacklebox.
From what we can see it's an all-encompassing product that will allow you to fish more efficiently and effectively on both short day trips and longer sessions. The only question is, what will YOU keep inside, to outwit your next target?
RRP: £49.99
WEBSITE: www.ridgemonkey.co.uk