RIDGEMONKEY | Aqua Shoe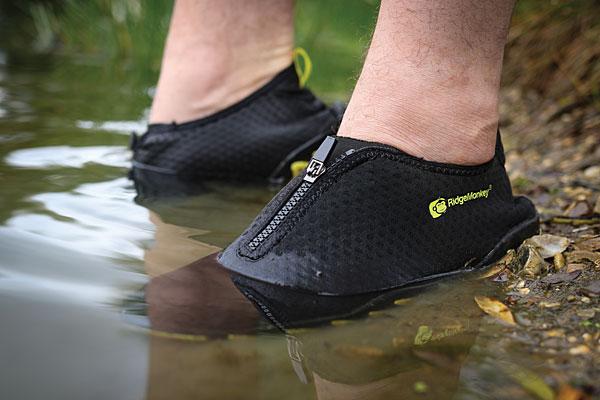 As anglers I think it is fair to say that, although the majority of our time is spent on the banks, there's equally some of the session where you simply find yourself living in the margins. Whether this is setting out banksticks, getting further out for that big cast, playing and netting fish, water shots and releasing your catch, the reasons why you may need to get wet are endless.
Thankfully the team at RidgeMonkey have developed the Aqua Shoe and, thanks to the fast drying materials and comfortable footwear technology, we believe you will simply end up living in these, be it on the bank, down the beach or even at home in the garden!
Boasting an EVA sole bottom and polyurethane and memory foam sole top layer, not only are the Aqua Shoe comfortable to wear, they also offer superb grip when walking on wet ground, muddy terrain and other obstacles you are likely to encounter on the bank. With a PU, foam and polyester bridge surface these shoes are quick drying, and ensure a snug fit, so even when stepping through weed and silt you can rest assured the Aqua Shoe will stay glued to your feet when worn. However, the elasticated materials and quick action zip also makes them easy to take on and off without fumbling with laces or having to get your waders on.
Available in sizes from 7 to 12, the quick drying, breathable Aqua Shoe is the perfect footwear solution for life both on the bank and in the water while keeping your feet comfortable and fresh!
RRP: £19.99
WEBSITE: www.ridgemonkey.co.uk