PB PRODUCTS | The Rock Hook Sharpener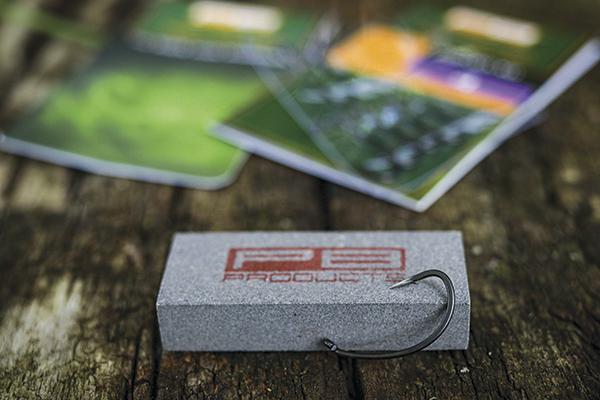 Whether you are angling for more bites or perhaps hoping to outwit one of the more pressured and wary carp in your preferred venue, a sharper hook will almost always bring you more action and increasingly put the odds in your favour.
The new Rock Hook Sharpener from PB Products is a simple design that brings together an easy to use functionality that gives instant results. Small enough to fit into any tackle box or pouch the abrasive eraser design boasts a flexible design that can be used in a multitude of ways.
With a light grey coloration you can immediately see that the device is doing the intended job; with just a few clean pressured strokes you will soon see dark stroke marks on the sharpener indicating you are indeed taking off surface corrosion and fine levels of hook material, resulting in a finer and indeed sharper hook in the process! Alternatively, press the hook point into the abrasive material and rotate from side to side – quick and easy!
The flexible design also means you will not run the risk of snapping expensive files when applying the hard pressure required to hone some of the more thicker wire gauges often found on bigger hook sizes on the market. The Rock Hook Sharpener is the perfect solution for anglers who are perhaps new to the world of hook sharpening as well as avid users of the technique, allowing you to instantly fine-tune hooks without the use of clamps and an array of different files.
RRP: £TBC
WEBSITE: www.pbproductsuk.co.uk