GARDNER | Carbon Throwing Sticks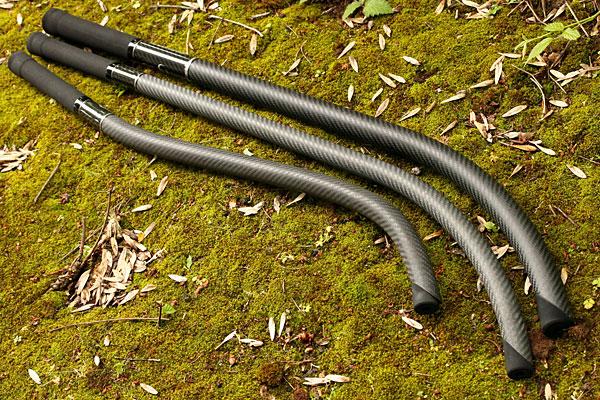 Throwing sticks are used by a vast number of anglers, and we have no doubt you will be one of them. If so, you will also understand the need for carbon sticks; when baiting up with a good amount of boilies using a plastic throwing stick your arm begins to take the strain. You either finish with an aching arm or wake up with one in the morning.
Carbon fibre throwing sticks are now an essential for any angler using this approach. With less fatigue not only does it allow you to bait up more consistently and with larger amounts, but also much more accurately – boilies simply go further with much less effort.
Gardner has proved itself to be an industry leader, developing throwing sticks to absolute perfection and we take a look at each within the range.
Pro-Pela
RRP: £69.99
Designed to apply boilies up to a diameter of 22mm this stick is a great all-rounder. Featuring a shrunk rubber hand grip, this aids non-slip and comfort with prolonged use – even when wet.
The stick is 96cm in length with a diameter of 25mm (23.5mm internal diameter). Being made of high-modulus carbon, with a matt 3k carbon finishing wrap it not only looks great but weighs in at just 70g, which when compared to a plastic stick is a fraction of the weight. Being carbon and also a great investment a case is a must and the Pro-Pela is supplied with a reinforced carry case for ultimate protection.
Pro-Pela XL
RRP: £74.99
You asked and Gardner listened. With the amazing success of the original Pro-Pela, consumers looked for an XL version to deliver larger baits and as always Gardner looks after its customers.
The new XL version delivers boilies up to 25mm in diameter at great distance. Made from all the same materials as the original for ultimate performance, this stick weighs in at just 85g – again a huge difference between comparible plastic sticks.
The XL is 96cm in length and 30.5mm in diameter (29mm internal diameter) and again comes with a protective sleeve. An absolute beast.
Carbon Skorpion Stik
RRP: £74.99
Further to the highly successful range of plastic Skorpion throwing sticks, it was a natural move to develop a full carbon version and wow, what a product this is!
The swept curve design accelerates and stabilises the bait in flight by increasing the centrifugal force generated as the bait accelerates along the curved portion of the stick – to put it simply, the shape drastically maximises the speed of the bait leaving the stick. The result is extreme distance with accuracy.
Manufactured from the same materials as the other carbon sticks the result is unbelievable. At just 50g it's super lightweight, and at 80cm long and 25mm in diameter (23.5mm internal diameter) and supplied with a carry case you have everything you could want from a stick. Mega beast.
WEBSITE: www.gardnertackle.co.uk