FISH HAWK ELECTRONICS | TD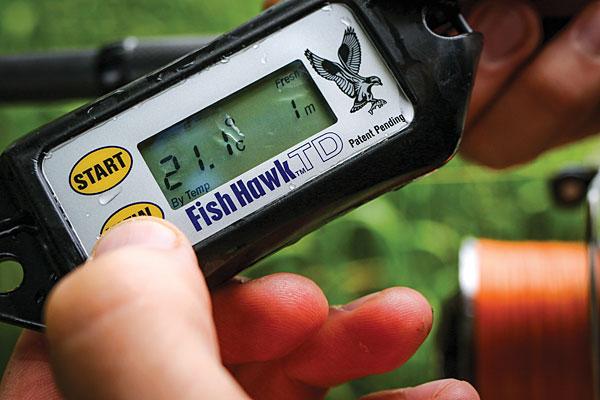 Taken from the ultra-high-tech American bass and saltwater fishing worlds, the Fish Hawk TD sure has its uses for carp anglers here in the UK. The device accurately measures temperature with depth, providing an understanding of the water column like never before!
With two modes of operation, it's the BY TEMP mode that will be most useful for us carp anglers, allowing us to plot the temperature gradients in the water. Temperature and water pressure sensors on the TD device sample the water multiple times per second, providing a temperature reading every one metre with incredible accuracy and precision. Once retrieved the angler can scroll through the depth readings, observing how temperature changes, possibly revealing areas of warmer water and features such as the thermocline.
The device works best when lowered off the side of a boat, but can also be cast out on a rod and line. It is not the most aerodynamic device for casting, but weighing 2.7oz it can be easily cast 50-plus yards, which should be ample for testing the temperature out in a body of open water. This could be a game changer when fishing zigs, especially in the winter, or for locating warmer pockets of water around the lake to help track down those carp! The TD has a completely sealed waterproof design and a lithium battery with an estimated 20 year shelf life – this provides a five-year running battery life for the device! It's suitable for both fresh and saltwater use (ensure the device is set to freshwater when using in a lake!) and comes with a one-year warranty.
RRP: $149.99
WEBSITE: www.fishhawkelectronics.com