DEEPER | CHIRP+ Smart Sonar (Video)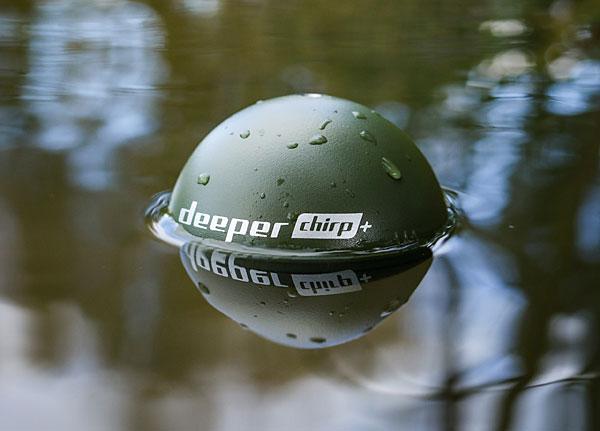 When it comes to fishing tech it is fair to say that we have seen a huge rise in fishfinders, cameras and other gadgets to help put more carp on the bank; however; without a doubt Deeper has definitely led the way as far as castable fishfinders go, and the latest addition to the range is certainly the most powerful, user-friendly and eye-opening device yet!
The brand new Deeper CHIRP+ is the world's first castable, GPS enabled, Wi-Fi fish finder that utilises CHIRP technology. So what exactly is CHIRP?
For the boat users among you, you may be familiar with the term CHIRP that has been found on mountable fishfinders and depth readers for a few years, but if you aren't here is our most unscientific explanation.
Traditional sonar devices send out single frequency pulses to help detect any variation in the lake bed and beam it back to the device. However, CHIRP (which stands for Compressed High Intensity Radiated Pulse) is a sonar that sends out a continuous flow of frequencies, ranging from low to high, resulting in the sonar readings being more precise and clearer, which results in a higher resolution compared to traditional sonars, simply meaning a vivid image and accurate readings.
A second benefit of the renowned CHIRP technology is the ever improved and invaluable Extreme Depths Precision. With a minimal surface clutter and noise disruption, the angler can expect instant and precise depth readings from the integrated sonar, finding fish as close as 15 centimetres to the device in shallow water, to distinguish fish sulking on the bottom in as much as 330 feet, that's if you can even find a venue that deep! It is fair to say this is the most versatile Deeper yet, being of use on everything from shallow, snaggy local waters to huge European inland seas and reservoirs!
Another aspect of this specific Deeper is the Three Beam Frequency that offers a broad range of discovery, allowing you to target more precise spots than ever before. The widest frequency allows you to instantly recognise spots of interest faster by scanning an area with the wide-angle beam, 47° (100 kHz). The user can then narrow the search further with the mid angle beam, 16° (290kHz), to investigate smaller areas in greater depth and then with the most accurate extremely detailed, 7° (675kHz) narrow angle beam you can pinpoint exact feeding spots, depressions or substrate changes with acute accuracy.
The device itself can be fully charged in as little as 75 minutes, and with the inbuilt Lithium Polymer 3.7V rechargeable 950 mAh battery will work continuously for eight hours with GPS off and when running full GPS a very respectable six and a half hours. With a weight of just 90g, which is astounding for the technology and power that will fit in your hand, the device can be cast with ease, and will offer a stable Wi-Fi connection to your mobile device or tablet at up to 100 metres range!
As well as offering detailed visual representations of the lake bed and also showing fish present in the swim, you will be able identify underwater vegetation, substrate hardness and consistency as well as depth and surface temperature. You can also use the device seamlessly to log catches with photos and detailed notes, as well as mark and save your preferred fishing spots and places of interest.
Deeper is so confident in its product that it now offers a standard five-year warranty with every single Chirp+ sold – come on, you have to give it a go, or at the very least check out the detailed videos and information on the website!
RRP: £279.99
WEBSITE: www.deepersonar.com
To find out more about the CHIRP+ Smart Sonar, watch the video below.