DAIWA | Powermesh C2 Rods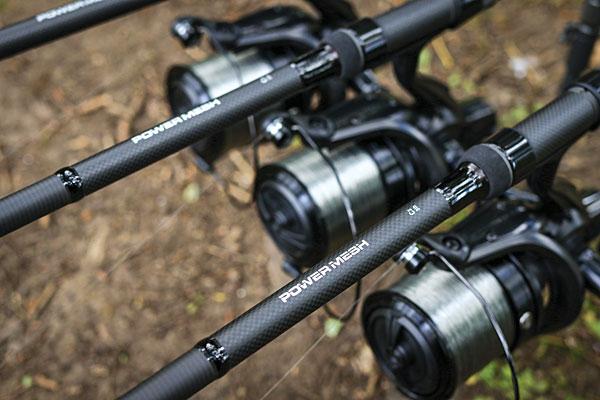 For 30 years Daiwa's Powermesh range has been proving just how effective its rods are and having developed tirelessly over the years each release sees new and updated technologies being implemented into its blanks. This year we see the release of Daiwa's Limited Edition Powermesh C2 Rods and following on from their previous release these are set to be spectacular. While the fish playing capabilities of their precursor was already tremendous, believe it or not the use of a high volume fibre technology delivers improved casting and fish playing further!
The Powermesh C2 Rods are available in three different lengths with the choice of 10ft, 12ft and 13ft models, and for the 10ft and 12ft versions there are a number of test curves to decide on. The 10ft models have been rated at 2.75lb and 3lb respectively, with each of the rods being suited for casting a 3oz lead to distances of 85 to 90 yards depending on the chosen test curve. They feature 40mm butt guides and retail at just £150.
There are three test curves in the 12ft selection; 3lb, 3.25lb and 3.75lb, as well as a 4.5lb test curve matching spod rod, which we will look at next month in more detail. The 12ft fishing rods have been given a price tag of £165 while the spod rod is just £10 more. With 50mm butt guides featured throughout on the 12ft and 13ft models, the 13ft 3.75lb model is the true extreme casting rod in the range that has the capability of casting 150 yards plus consistently in the right hands. For just £180 each this is certainly an affordable option when fishing waters that require a long chuck!
The Powermesh C2s are an aesthetically pleasing piece of kit featuring the tightly woven 1k carbon weave together with a slim full length Japanese shrink grip handle and a low glare matt finish throughout. An ultra-reliable Fuji DPS reel seat is featured on all rods and there has been significant attention paid to the guides. The C2s make use of steel TDG guides, which make for a far lighter rod as no ceramic is used, which can sometimes crack and shatter. Furthermore single legged guides and a large anti-frap tip have been utilised on the tip section for a lighter rod that recovers in the cast at lightning speed – the result is a more balanced and responsive rod and longer, more accurate casting!
RRP: £VARIOUS
WEBSITE: www.daiwasports.co.uk