DAIWA | Fish Care Products (Video)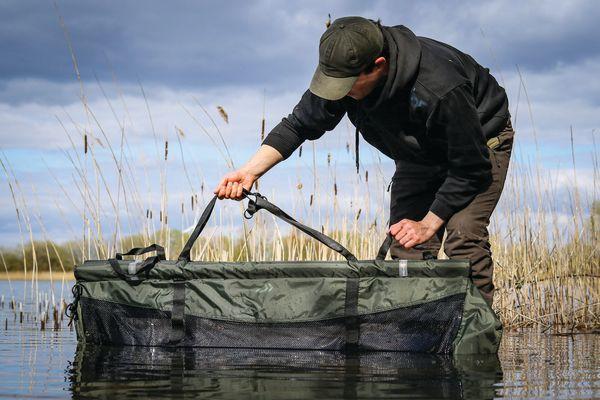 We take a look at the new unhooking mat and retention sling from tackle giant Daiwa!
Folding Unhooking Mat
RRP: £89.99
Banking the carp is only half the battle, when it comes to looking after your prized target an all-encompassing padded unhooking mat is essential. The new Folding Unhooking Mat is large enough comfortably handle any carp caught in the UK and has generously high sides to help retain the carp safely, even on unlevel ground if that is all you have around you.
The PVC construction is easy to keep clean and helps to protect the carp's vulnerable scales and skin when wet. An additional pocket is situated on the mat allowing you to keep your fish care treatments and tools to hand' ensuring you can give every capture first class care when on the bank. A kneeling flap folds down from the mat keeping you close to the fish when looking to get trophy shots while protecting your knees from stones or wet ground.
The whole item is easy to fold and pack away in the provided sealable stink bag, meaning not all of your kit has to get wet and take on the fishy stench of victory when packing away and being loaded into your car! Just remember to take it out to dry it otherwise you could be in for a nasty surprise when you next hit the bank!
Daiwa Floating Weigh Sling
RRP: From £59.99
Constructed from a combination of strong and fish friendly materials, the mesh and polyester materials allow critical water flow through the whole sling, ensuring the retained carp has enough oxygen levels and water required. Once again, this is built to deal with any size carp you may catch in the UK, so you can rest assured it's an investment no matter where you fish next.
Built in buoyancy supports complete with reflective strips along the surface arms help to keep the sling in an upright position, which is also critical when safely retaining carp, and the reflective sections make it easy to keep an eye on the sling even in low light conditions. The sling can be zipped and locked at the top, ensuring there will be no premature escaping by the carp until your pictures have been done and the carp has truly recovered.
As you would expect the sling comes complete with a reinforced cable and brass screw thread contained in an outer pocket, ensuring you can safely attach the sling to a bankstick when afloat to keep it close at all times, without the fear of it drifting away. The sling also benefits from four carry handles along the top of the arms for ease of lifting, and two further larger straps complete with metal rings are situated in the centre, making it ideal when weighing the sling safely and securely.
WEBSITE: www.daiwacarp.com
To find out more about Daiwa fish care products, watch the video below.