WYCHWOOD | Tactical Fishcare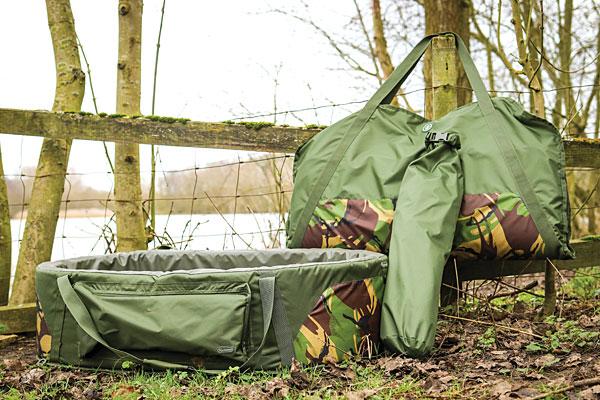 As we spend so long planning, preparing and fishing for our quarry it is our duty to look after our prized catch once landed. No expense should be spared when fish care is concerned, in fact the carp we catch should be released back to their watery home in just as good condition as they were prior to being hooked.
Fortunately in this day and age we have access to loads of quality carp care products, be it unhooking mats, retainers, sprays or treatments to help with this. Wychwood's latest selection of tactical items maintain their high quality of fish care products, while boasting a very compact design and supreme value for money.
The Wychwood Tactical Floating Sling is more than long enough to retain any carp that is likely to be found swimming around in the United Kingdom, or indeed Europe, with an overall length of 120cm. This new iteration from Wychwood comes with a breaking point in the centre, which now means the sling can be packed into a smaller carry bag and can then be tucked inside an unhooking mat.
The super-soft fish-friendly mesh provides premium water flow for the carp and a supplied 5m retaining cord means the fish can find its preferred area of water in close vicinity. At a price of just £44.99 this is a must-have piece of tackle. It's key to note that this item, like other floating retainers should be for short term retention only.
Mobile carp anglers need their tackle to be compact and lightweight without compromising performance, and when it comes to an unhooking mat this is most important. Wychwood's Tactical Sling Mat is just the kiddie for such an approach, which offers great protection for small to mid-sized carp. The 60mm high density foam is able to absorb the movements of the fish while on the mat as well as helping to protect from any uneven or harmful ground beneath, and measures in at 85cm x 70cm. As the Tactical Sling Mat is fully zipped you can transport the fish inside back to the water or carry items of tackle inside for ultimate stealth. At only £59.99 it's a fantastic quality mat with a great design aimed at the mobile angler.
For optimum carp safety the Tactical Walled Mat is a sight to behold. Based on the previously released Walled Mat, this mat has a slightly smaller pack size and features that signature Wychwood DPM camo of the Tactical range. With 10mm of high density foam added for even more protection against the elements it also provides extra sturdiness for the walls of the mat.
The size of the unhooking mat may appear to be large when in use, measuring in at 100cm in length, 70cm width and 28cm high, but it easily packs down into a compact easy to carry item. Items of tackle such as scales, a weigh sling, catapult, bait and tackle pouch can all be placed inside and armed with a rod or two and a landing net you will be ready to launch assault on the carp. The Tactical Walled Mat is a versatile piece of kit and is just as suitable for long session angling as it is for stalking. For such a functional, lightweight and reliable piece of carp care the price of £74.99 is an absolute steal as this will be set to last for many seasons to come.
RRP: £VARIOUS
WEBSITE: www.wychwoodcarp.co.uk