AVID CARP | Digital Scales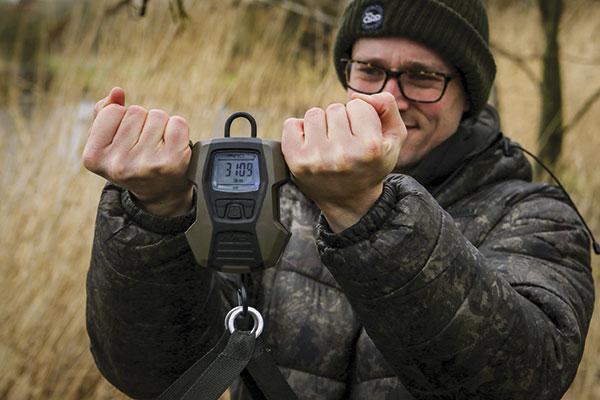 We all love to catch fish, that's why we go fishing, but on those red-letter days when you bag yourself a new PB or the target you have been angling for it is always nice to put a weight on your prize, and thanks to Avid you can now do so easily and effectively with these brand new Digital Scales.
Capable of weighing fish up to a whopping 132lb (60kg) these specimen scales will handle carp, catfish and, well… every species you're likely to catch in the UK, with an accurate reading in 1oz divisions. A simple three-button layout makes them super-easy to use, allowing you to change units and zero your weigh sling in all with a touch of a button.
A hard wearing stainless steel frame ensures reliability and strength, which is paramount to keep the measuring device in tiptop working condition through the rigours of modern carp angling, all housed in a stylish moulded body. You will also notice the black stainless steel hoop at the top of the scales for use with either a tripod or weigh crook for increased accuracy on larger captures, and at the base of the unit a retractable black stainless steel weigh hook for securely attaching your weigh sling.
We really like the look of the built-in fold-out stainless steel arms that benefit from ergonomic reinforced sleeves, allowing you to get a firm and secure grip when lifting up the scales.
A backlit screen makes reading the weight easy in all light levels and this is also further protected by a reinforced sealed cover that helps to protect against both water ingress and shock damage. An on-screen low battery indicator is a useful function allowing you to keep tabs on when you are running low, as let's be honest, none of us want to be caught out after finally bagging the carp we have been waiting for!
The unit requires a 9v battery to operate, which is handy as most convenience stores, supermarkets and garages stock these, so you should be able to stock up on them even when driving to the lake if you are running low.
Supplied in a neoprene protective case, it looks as though the Avid Digital Scales are designed to last and should certainly see you through plenty of bountiful sessions for many years to come.
Measuring in at 155mm high, 10mm wide and 50mm long, these scales are quite compact when folded away and should easily find a home in your unhooking mat, rucksack or luggage, keeping them at hand when you need them most.
RRP: £69.99
WEBSITE: www.avidcarp.com