WOLF | X3K Rods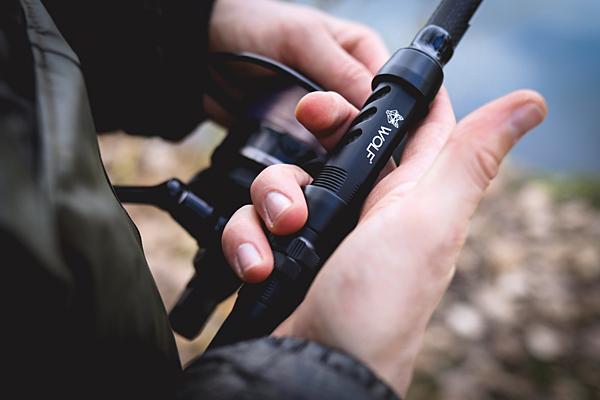 The Wolf rod ranges were designed with the intent of producing iconic and beautiful rods, with a distinct custom feel to their finish. The three range – X, X3K and X1K – all share similar attributes in their design; however, the use of different materials in the blank results in different actions and performance in each of the rods.
The X3K, which is the mid-range model, utilises a 36-40 tonne carbon with a 3K to 1K woven carbon blank used on the butt and tip respectively. The 3K weave provides additional backbone and strength to the blank, while the 1K weave results in a much lighter tip, making the rod more responsive in the cast and enjoyable when playing carp. The result is a superbly balanced blank that is user friendly and can cope with bigger casts and higher amounts of abuse due to the build quality and design.
On top of their fantastic performance, the Wolf rods really do have stunning looks to match. The real key to their customised look is the matt-black Alps Central Lock Window reel seat, which is then paired with a slim Japanese shrink wrapped handle finishing in a flared base with a laser engraved butt cap. The matt carbon blanks are then contrasted with gloss black whippings and black SiC rings in the advanced pattern, whereby single leg guides are utilised on the tip for added lightness and responsiveness to the finished rod.
The rods are available in a range of lengths and test curves to suit the angler and situation, from 10ft 2.75lb, which is great for stalking on small waters, right through to the 13ft 3.5lb model designed for chucking a lead to the horizon. All rods from the 12ft 3lb model and above feature a 50mm guide pattern. Also available are dedicated Marker and Spod rods in each of the lengths to match.
RRP: £154.99 to 249.99
WEBSITE: www.wolfint.com