Wolf | X Series Rods (Video)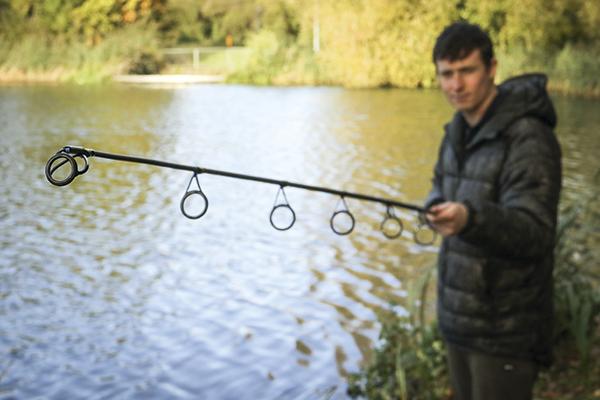 With three ranges of carp rods on the market, how long before you join the Wolf Pack? Wolf is the brain child of Richard Fox, son of the renowned Clifford Fox (founder of Fox International) and was created with a single target in mind, creating innovative, beautifully designed and iconic products.
With that said, we were very excited when it came to reviewing the carp rods on offer, and here's what we have to say!
Three ranges are available, the X series, the X3K series and the X1K, which share a distinct custom look that has become synonymous with Wolf.
The different ranges offer different levels of blank design and price points, providing quality rods for all discerning anglers, including long range hunters, margin masters and everything in between.
So what are the key differences between each range? The Wolf X rods are first up, featuring a high modulus 24-tonne carbon construction with a smoke matt finish and cross weave banding.
This blank provides the angler with a smooth, medium action which is probably best described as a superior all round rod for the rigours of today's modern carp fishing.
That is not to say you won't be able to beast a lead with the X series, as such options include a 13ft 3.5lb test curve variety which will indeed appeal to the casters among you.
Next up in the range is the stepped up X3K series, which utilises a 36-40Tonne carbon with a 3K to 1K woven carbon blank used on the butt and tip respectively.
The 3K weave provides additional backbone and strength to the blank, while the 1k weave results in a much lighter tip, making the rod more responsive and enjoyable when playing carp. The result is a superbly balanced blank that is user friendly and can cope with bigger casts and higher amounts of abuse due to the build quality and design.
Finally the Wolf X1K rods are the flagship rods, constructed from ultra-high modulus 40-46Tonne carbon with a modified fast action to enable extreme range casting.
The ultra-matt 1K weave throughout is a generally much rarer blank construction and the result is a lighter extremely highly tuned blank built for extreme casting but without hindering fish playability. It's also safe to say it looks stunning.
Without doubt the action and performance of a carp rod is key to its success and its popularity; however, with that said, we all do like gear that looks the part, and it is fair to say that a beautiful custom looking finish is available in this range.
The matt blanks are contrasted with gloss black whippings used to fit the Black SiC rings in the advanced pattern – this is the use of single leg guides on the tip for added lightness and responsiveness.
Finally, to complete Wolf's custom look, the emblematic WOLF Matt-black Alps Central Lock Window reel seat has been used which is simply beautiful!
Note that the X1K feature additional silver banding on the reel seat too. This is combined with a Japanese shrink tube handle and laser engraved butt cap for a modern feel.
Each of the ranges are available in rods from 10ft right through to 13ft and a whole host of test curves, with the longer rods and higher test-curve models featuring the 50mm advanced ring pattern.
AVAILABLE IN:
10FT 2.75lb, 3.00lb & 3.25lb (40mm butt ring)
12FT 2.75lb (40mm butt ring) 3.00lb, 3.25lb & 3.50lb (50mm butt ring)
13FT 3.5lb (50mm butt ring)
RRP: £Various
WEBSITE: WWW.WOLFINT.COM
To find out more about the Wolf X Series rods, watch the video below.