Sonik Sk4xtr Rods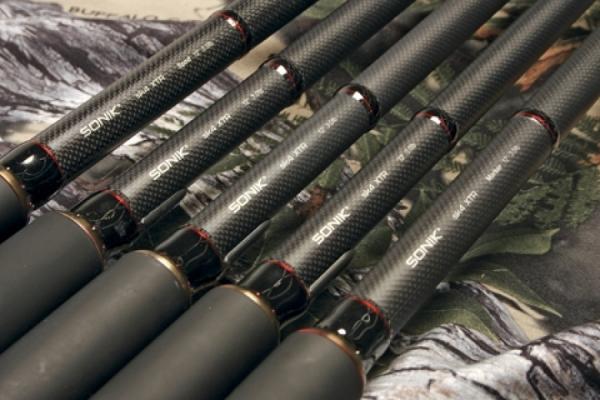 The original sk4 rods from Sonik were somewhat of a revelation.
The cutting-edge technology involved and the resulting performance far outweighed the moderate price tag of around £180. New for 2013, the sk4XTR is effectively an extreme version with improvements noticeable across the board. Despite this, the top-end version has only increased in price by 20 notes.
Firstly, they are manufactured using the latest generation, ultra-low resin, high-modulus carbon fibres, which creates a blank that is slim and sensitive while remaining a very powerful casting tool. They are also incredibly lightweight. To add extra muscle to the action, the butt section has been overlaid with a 1K carbon weave, which boosts overall strength and elasticity when compressed. The double-legged SiC guides will tolerate a few knocks and ensure the line runs through the rings with minimal friction.
The rods underwent extensive testing, for example the 3.5lb version was developed to consistently cast 3oz to 5oz leads 150 metres and beyond. Okay, some very experienced casters were responsible for achieving such distances. If anything, though, this means that the average Joe can add noticeable yards to their big chucks, too.
Although the rod's most impressive credentials lie in its all-round performance, the looks are a hit too. Updated cosmetics for the XTR include the metallic-red inserts to the ventilated collars on the Sonik DNPS reel seat, which are matched to metallic-red detailing around the butt section and rings. There's also a laser-etched gun-smoke aluminium butt cap and custom Sonik line clip, adding a touch more class.
Just like the rest of the rod, the handles are super-slim with abbreviated Japanese shrink-wrap grips. The test curves run from 2.75lb to 3.5lb with either 40mm or 50mm butt rings to suit all manner of angling situations. There's even a 3.5lb 13ft version for even more extreme distances, and a marker and spod version too. If you require a true all-rounder then the 3.25lb 12ft model would be our choice. It's well capable of hurling big PVA bags, yet the action is progressive and forgiving when playing fish. All in all, these are extremely impressive rods at an even more impressive price.
At a glance…
SONIK sk4XTR RODS
– £189.99 to £209.99
FOR MORE INFORMATION GO TO:
WWW.SONIKSPORTS.COM
TC comment:
Top-end performance without the price tag to match.