Sonik S3 And S4 Carp Rods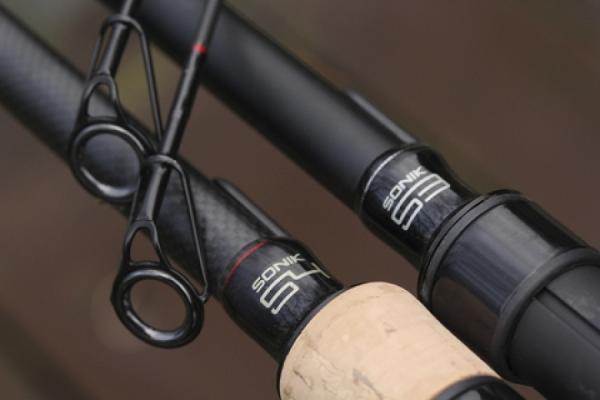 Introducing the S3 and S4 rod ranges, Sonik has pulled out all the stops with some great incentives and real money-saving deals that could just tempt you to that set of new wands you have been waiting for.

The S3 is available in a range of lengths, starting from a compact and stealthy 9ft through to 10ft, 12ft and a 13ft models. The 9ft features a slim shrink handle while the other models are all available in both cork and slim shrink.
The 12ft rods at 3lb test curve and over also feature 50mm butt rings as standard. Constructed on a brand-new, super-slim blank, these rods are not only great for casting but also capable of controlling and playing fish right under the rod tip. Fitted with double-legged SiC guides, minimal branding and finished in a matt black finish, these rods look the nuts.
The S4s are aimed at the mid to high-end rod range, priced at £159.99, but a set of three can be purchased for £400 with a free 'S' Multi-sleeve rod holdall. A 4.5lb spod and 3.5lb marker rod are available and the rods at 12ft and 13ft are available at three for £300 with a free SKS 42in landing net.
Two lengths are available, 12ft and 13ft, from 3lb to 3.5lb test curve. Each model comes complete with 50mm butt rings, 'breakdown friendly' ringing pattern and the option for either cork or slim shrink. The 13ft is only available in slim shrink and 3.5lb. As you would expect, there is also a complementary 5.5lb spod rod and 4.5lb marker float that finish this setup off beautifully.
The rods are fitted with super-light Seaguide blackened rings, a custom DPS real seat and awesome 1K weave. With small red detailing these rods look the part and are in keeping with today's minimal branding and underground aesthetics, which have become so popular. (DM)
S3 £69.99 to £119.99; S4 £159.99
Don't forget - subscribers to the magazine get 5% OFF THIS PRODUCT at Angling Direct.
Subscribe here