Sonik Gravity X Carp Rods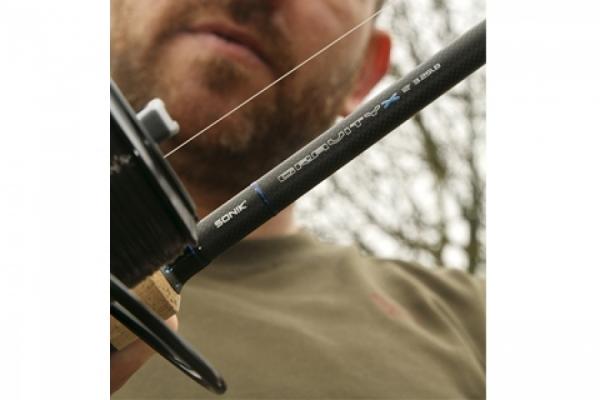 Marc Coulson's verdict... So far the Gravity X has lived up to all expectations. - 4/5!
I still remember first seeing the Gravity X at a press launch last year and being immediately impressed with what felt like a well balanced, light and extremely good looking carp rod. With multiple handle options available, it was the cork versions that really stood out.
I travelled back that day and waxed lyrical about them with Justin Fox, but it was some time until the first review sample arrived in the TC office. Back then, we were sent one of each model and, as you do, we ran what were then just initial 'first-look' reviews.
The request then came in from Sonik's Ian McCormack for us to take a set in and run a longer-term test review and when the guys agreed that it would be me that tried them I knew exactly which model to ask for.
I think largely due to the popularity of the rods and, therefore, some subsequent stock issues at Sonik HQ, it was a little while until the test set arrived but, on unravelling them from their bubble wrap, I recognised the blanks immediately as being the the same as I'd seen all those months previous.
So, it was time to get them out on the bank and put them through their paces. Now, as I've said before in these pages, I do not profess to being a huge caster, my average probably being around the 120-yard mark, and I prefer a rod that will give me some assistance here but not feel poker stiff. So far they've done exactly that and I cannot fault the all-round performance one bit.
Honestly, there really isn't anything I'd change about these rods and I've been extremely impressed. Tip recovery is especially impressive, which is a real bugbear of mine on carp rods, and in all the Gravity X has performed brilliantly.
The true test, of course, comes over a much longer period of time, when any carp rod will either shine or otherwise as the carbon and resin are either found out or prove their worth. I'll be back in a few months' time, after getting more sessions under my belt. (MC)
£219 to £265

Don't forget - subscribers to the magazine get 5% OFF THIS PRODUCT at Angling Direct.
Subscribe here
Terms and conditions apply