SONIK DominatorX 6000 RS Reels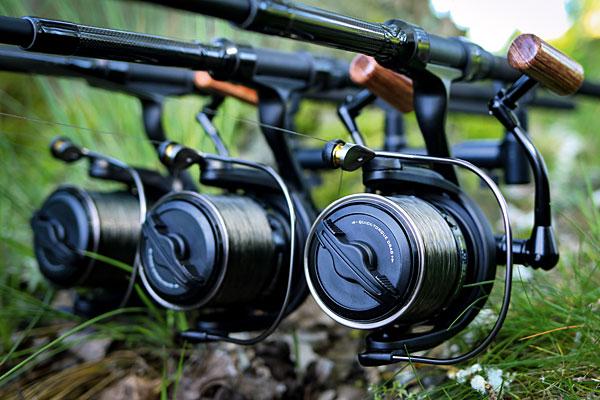 As much as we all love good looking kit, the truth of the matter is that the product has to work and by ticking both boxes while also offering a pocket friendly price tag, the DominatorX has already found an ever growing fanbase with the modern carp angler. Dare we say it, this product could just dominate the field of carp reels within the extremely economical price range!
Boasting a very handsome minimal weight of just 570g thanks to a lightweight graphite body, the DominatorX is still a heavy hitting multi-functional carp reel. Fitted with a long cast tapered aluminium spool it also possesses super-slow oscillation gearing that not only improves line lay but allows the user to benefit from the tapered spool, with reduced friction on the line helping to put valuable yards on any angler's casts!
The DominatorX 6000XS reel comes complete with two double anodised aluminium spools, perfect for anglers who choose to target a variety of different waters throughout the season, allowing you to take advantage of different main lines without the hassle of having to strip and respool every time you wish to do so. Each spool also benefits from twin oversized line friendly spring loaded line clips, allowing multiple spots to be found on one spool, which is perfect when looking to drag a lead through the swim without having to make more casts than you would like.
The spools' capacity ranges from 0.30mm/300m to 0.35mm/220m or 0.40mm/165m, giving ample room to spool up with a wide array of carp main lines for every situation, even including boat work!
What we also like is the invaluable Quick-Torque drag system that not only allows the angler to remain in complete control when playing hard fighting fish, but also enables you to make valuable, subtle changes throughout the fight. Featuring five shielded stainless steel ball bearings plus one roller bearing the DominatorX is as smooth as you would expect, and as we have found with the earlier Sonik reels, we believe this will be an item that will prove its worth and durability over many seasons of hard use!
The classy black styling and gunmetal fleck make this an aesthetically pleasing reel, while the wooden barrel handle and Quik-Clik folding mechanism bring a retro feel to the extremely modern workings and functionality.
RRP: £84.99
WEBSITE: www.soniksports.com