DAIWA | Tournament Basia 45 SCW QD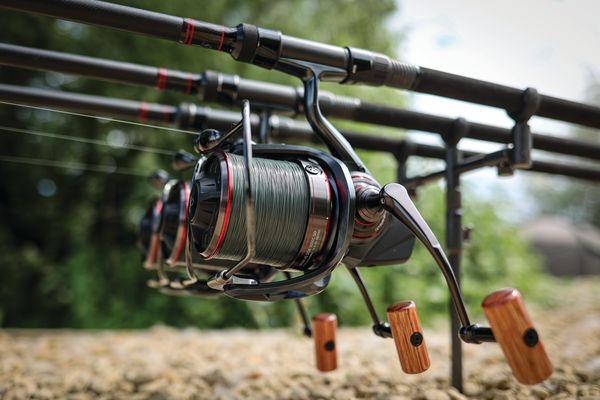 Daiwa Basia reels have long been synonymous with distance fishing, luxury and elegance and the latest flagship model to join the ranks is certainly continuing the family heritage in fine style! Meanwhile, the Tournament branding also signifies Daiwa's highest level of performance and reliability. Yes, it has the looks of a Ferrari, but it boasts the heart of a tried and tested farmer's Land Rover!
Cosmetically the reel is certainly a thing of beauty, with its steely grey body, red detailing and a finely crafted aluminium handle with Daiwa's signature wooden handle knob. This is one reel that will turn heads for all the right reasons – it's a thing of absolute beauty!
The reel is constructed from an ultra-lightweight Zaion Carbon body and rotor, which not only reduces the weight of the reel to a mere 520g, but also boasts strength and rigidity. The inclusion of the one piece Air Rotor also keeps weight to a minimum while optimising winding smoothness. This, in combination with 9+1 ball bearings, and precision CNC-milled gearing made from aircraft aluminium provides incredibly smooth operation. It is hard to believe just how good this reel feels in the hand; it really is a true work of art! It also offers enormous winding power and facilitates the retrieval of heavy weights from long distances – a must when casting to the horizon or battling a hard fighting carp in snaggy situations.
Up front, the reel features the classic 45mm Basia spool, which now features the new LC long cast technology whereby a dual lip at the front of the spool helps to control line flow from the spool and reduce friction and frap-ups as the line passes through the rod rings. On an out and out distance reel it is imperative to have quality line clips to ensure your main line is protected when hitting the clip at extreme range under severe force and the HIP Spring-Loaded Line clips are exactly that; tough for abuse but gentle on execution. The spool itself can house 300 metres of 0.35mm diameter line and an additional spare spool is also provided for loading with alternative main lines!
As expected, the new Tournament Basia features that all important QD quick drag facility, enabling a rapid transition from freespool to locked up, while still maintaining plenty of precision and control. Furthermore, as with most of Daiwa's latest big pits, the new Basias feature Slow Cross Wrap whereby a dual speed oscillation of the spool ensures excellent line lay while still ensuring the line crosses over so as not to bed into itself. Ultimately, this could be Daiwa's best ever casting reel to date!
The final cherry on top when it comes to the new Tournament Basia is the inclusion of Magsealed technology, which was previously only seen on Basiair Z when it comes to the Basia range. Magsealing utilises magnetic oil to protect the internal gearing of the reels from water and grit ingress ensuring that your prized possessions continue to remain silky smooth over time and use!
RRP: £750
WEBSITE: www.daiwasports.com