NASH TACKLE | Scope GT6000 Reels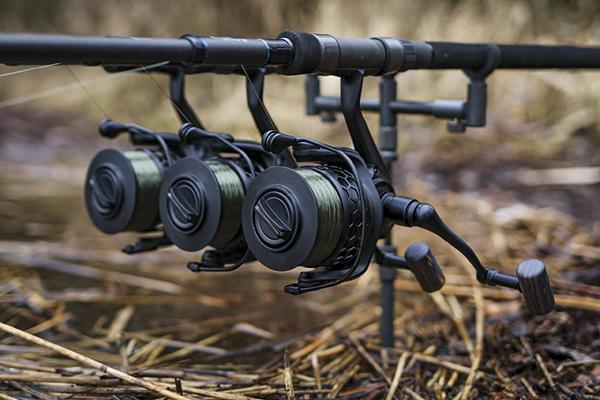 Bearing witness to the roaring success of the Scope rods, it was only a matter of time before the dedicated and matching Scope reel followed. The result of a two-year development and testing period saw the introduction of two reels to the range, with the larger of the two being ideally suited to the 9ft and 10ft rod users.
Nash Tackle's Scope GT6000 Reels are the sweetest tonic you could hope for when looking to tame large carp and the reasoning why is extremely interesting! A manufacturer who specialises in fishing for giant trevally or GT (which are extremely hard-fighting sea fish found in the Pacific and Indian oceans) were contacted to help make a durable and feature packed reel. This should give the user utmost confidence that the components used for construction are of the highest quality and long term performance is virtually guaranteed.
The entire Scope range has been designed for the angler who likes to go on adventures, in a compact and mobile fashion travelling from venue to venue as effectively as possible. Therefore the weight of the reel required a design that was to be mindful of this philosophy, and despite being incredibly hard-wearing a weight of just 489g has been achieved. The aluminium construction and honeycomb spool help with this reduction of weight, while also being pleasing on the eye.
For its size the GT6000 holds a surprising amount of line with an average of 430 metres of 0.35mm diameter line on every spool. The line retrieve is simply outrageous too, with a staggering 105cm of line returned with each turn of the handle – a number comparable to big pits! Adding a line clip to the reel was essential, as was the inclusion of a dual propulsion line roller, efficiently reducing line twist.
A true test of a quality reel is its clutch system and the drag is as smooth as butter, with a tantalising ticking as the spool spins. Not only does it sound awesome when you hear that spool spinning, but a quick drag ensures stress-free contact with just a quick turn of the drag knob, and the carbon washers allow for fine adjustment of the drag to ensure that fish reaches the net without hook-pulls. Nine stainless steel bearings and an additional roller bearing finishes the Scope GT6000 off nicely.
Of course, as with all of the Scope items these compact reels have been given the matt black finish and understated branding treatment. The choice of using a modern style handle or wooden handle has also been provided. While the price of these reels may not be the cheapest, Nash has ensured their performance and durability heavily outweigh the price tag.
RRP: £189.99
WEBSITE: www.nashtackle.co.uk