SHIMANO | Ultegra XTD Spod Reel (Video)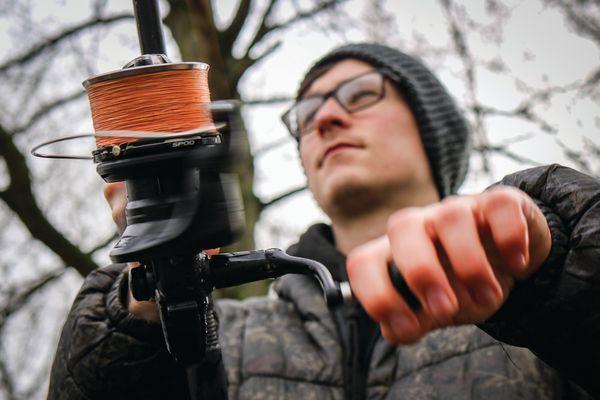 Your spodding setup is ultimately the one piece of kit that gets the most abuse out of everything. While it's great to have the lightest and smoothest fishing reels and carp rods that feel like holding a feather, for the vast majority of the time they are stationary, sat on the rod rests, looking pretty. In contrast your spodding gear needs to be a real workhorse, being put through their paces with repetitive casting, winding and being covered in all sorts of grime!
For me, Shimano's Ultegra XTD spod reel ticks all the right boxes. It's a 14000 sized Ultegra reel, meaning it's got a nice large diameter spool. This makes it equally as adept for spodding at short range as it does extreme distance. The cold forged spool itself is a shallow spool meaning you can wind the fine braid directly on to the reel without the need for hundreds of yards of backing.
Once loaded with braid you'll quickly notice the impeccable line-lay afforded by Shimano's Aerowrap II and Super Slow 5 Oscillation. Shimano has also provided three, yes three line clips enabling you to clip up to multiple ranges without losing your position each time. This is particularly suited for baiting multiple areas, so that you don't have to keep rewrapping the longer spots.
The body is compact and features geared up internals to make spod work a breeze. The increased gear ratio of 5.2:1 means the Spod version retrieves 124 centimetres of line per turn of the handle, compared to just 104 on the standard fishing models. Extrapolate this to an 124 vs 104-yard cast over 50 times and you soon see the appeal when baiting heavily!
The gearing inside is robust and takes plenty of abuse, but you should always look after your reels to ensure they continue to perform at their peak. Where possible, wet your braid by splashing water over the spool rather than submerging the entire reel. Continually submerging your reels will result in water ingress in pretty much every reel, causing your reel to begin seizing up. I've accidentally dropped my spod rod in the lake on a number of occasions and while the reel temporarily became a little stiffer, continual use soon saw the internals well lubricated again and working like new!
The reel feels particularly solid, with little to no flex in the body or handle. The handle itself is machined aluminium and features a large rubberised egg-shaped knob for additional grip, even in inclement weather. The use of an instant drag comes in really handy to ensure you can lock it up tight so there's no slippage on the cast leading to sliced fingers. Equally, loosening the drag in just half a turn makes marker work a breeze.
One final feature that is a great addition is a locking bail arm. This bail arm does not close on rotation and can only be closed manually to avoid accidental closure and any resulting mishaps! All in all, it's been a fantastic spod reel that I'd recommend to anyone serious about their baiting!
Matt's Verdict: "Smooth, fast and powerful - everything you need from a spod reel."
RRP: £139.99
WEBSITE: www.fish.shimano-eu.com
To find out more about Shimano's Ultegra XTD spod reel, watch the video below.