Shimano Ultegra Ci4 5500 Xtb Reel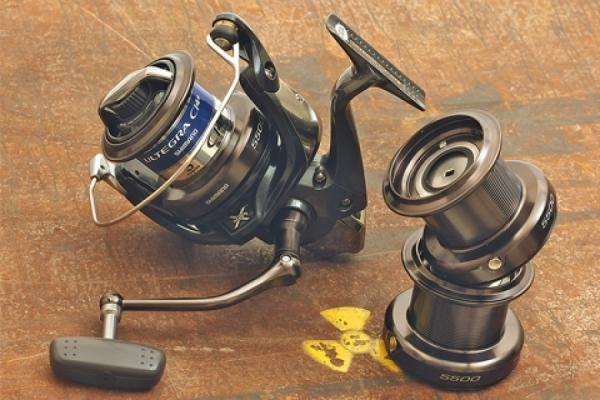 Shimano's introduction of its Ci4 material allowed the tackle giant to produce its array of leading carp reels in a much lighter form. Ci4 is basically as strong as traditional materials but weighs considerably less, and it now features on several of Shimano's top-end reels.
This particular reel made a huge impression on our team, as well as that of our sister magazine, Advanced Carp Fishing. The editor of that title, Tim Hodges, was so impressed, in fact, that he tried to get away with not sending them back… but had an epic fail!
We've looked before at what have been christened 'baby big pits' and their uses continue to grow. With improvements in line lay and the addition of Shimano's AR-C spool design, casting capability is genuinely approaching that of more traditional big pits but without all the bulk.
Specifically, the Ultegra Ci4 5500 XTB is outstanding and feels silky smooth while boasting considerable cranking power when it comes to playing big fish. The unique front-placed Baitrunner II system combines with an excellent front drag to make switching between the two an absolute doddle.
This is one serious bit of kit boasting modern materials and packed with features, which is reflected in the price. That said, there are two cold-forged aluminium spare spools and multiple line reducers included with each reel, which we think helps to justify this price tag. Technology like this does not come cheap and, if you can afford them, these are well worth the investment.
£269.99
For more details go to
www.shimano-eu.com