Shimano Ultegra 5500xtc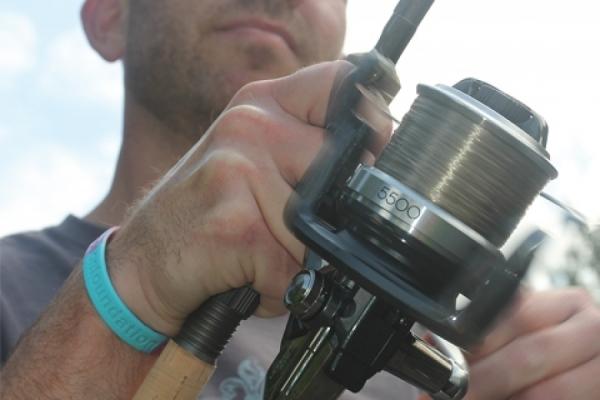 I used the previous incarnation of the Ultegra 5500, lovingly christened the 'baby big pit' although that one didn't boast Shimano's unique Front Baitrunner system.
When Shimano asked me to upgrade my test set to this, the latest model, I wasn't sure that I wanted to switch, although I thought the Baitrunner might be a handy addition. I should never have shown any hesitation and, somehow, Shimano has managed to make the 5500 even better.
The number equates to the size of the reel – there's a 14000 version for you out-and-out distance anglers – and it sits between compact and big pit in terms of reel bodies and capacity. In fact, you could easily describe it as a compact big-pit reel.
Do not let that description lull you into thinking that this is just a small-water reel. Although it's what I use them for most of the time, using it exclusively on my small club-water ticket, I have purposely taken it onto bigger waters to see how it copes.
If you're honest, like me, you don't often fish at more than 100 yards and certainly not over the 120-yard mark. This, in my opinion, is long-range fishing to the vast majority of carp anglers. I cast a 4oz lead 124 yards while testing the 5500XTC and, bearing in mind my biggest casts with my big-pit setup only reach the 140 to 145-yard mark, that's pretty impressive from a reel that's considerably smaller and significantly cheaper than many bigger examples.
Much of what's written about the need for big-pit reels to hit long ranges is, let's say, exaggerated. Yes, for the right anglers fishing at extreme ranges, the bigger spool aids them, but for mere mortals like myself a reel of this compact nature will cope with the majority of situations. The bonus, compared with huge reels, is that when used on smaller waters they don't look out of place or overgunned.
I'm not going into detail about the technical features of the reel, such as Shimano's X-Ship, Aero Wrap 2 and AR-C spools system, but I can say that they add up to a very smooth performer. The Baitrunner is easy to use, much easier than many copies of this style of system, and the retrieve and line lay for a reel of this size are both impressive. There's really not much more I can add, save to say that the real price you'll pay for these is nearer £150, which in my eyes is exceptional value indeed.
Performance: 9/10
Value: 10/10
"A quite brilliant reel with huge versatility and at an affordable price for many"
RRP: £199.99
Website:
www.shimano-eu.com