SHIMANO | TX-Ultra Rods & Aero Technium MGS Reels (Video)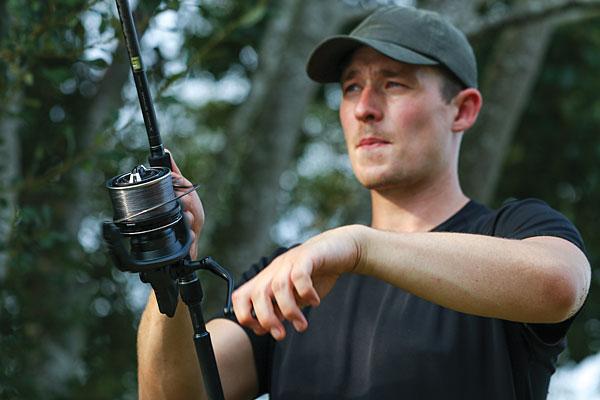 Without any shadow of the doubt, when we are talking reels, one of, if not THE most desirable reel to all serious carp anglers has to be the all-encompassing Aero Technium MgS. Renowned as the flagship model of the extensive Big Pit range available from tackle giants Shimano, the Technium is the most fully loaded feature-packed reel on the market, which only utilises the very best of components available in modern carp reel technology. In fact you will not find another model that incorporates just about every piece of Shimano technology available in one model.
Despite the vast array of components and functionality compacted into one reel body, the use of lightweight Ci4 materials in the rotor, a magnesium body and other strong but lightweight components sees this beast weigh in at a very minimal 485g! Now we imagine the sceptics among you will think a lightweight reel won't be as durable or as strong as a larger heavier model, but you couldn't be further from the truth! By utilising the proven Hagane Body system and equally impressive Hagane Gearing systems, the Technium MgS boasts superior protection and rigidity meaning the reel can deal with all the rigours of modern carp angling even throughout consistent and constant use, both externally and more importantly internally too.
Without getting too technical or equally writing pages on just exactly what this reel is capable of doing, one feature we just have to highlight is the eye-wateringly impressive line lay delivered by the Super Slow 10 oscillation system. This market leading parallel line-lay is designed to keep your line in the best possible condition for boosted casting performance.
The high speed drag is a joy to use, ensuring you stay in ultimate control when playing fish, and with waterproof capabilities long gone are the problems of drags seizing and skipping after a dunk in the pond. Shimano has left no stone unturned with this 14000 model, from the hi-tech innards to the strong, sleek single-piece aluminium handle.
The Aero Technium is available in two models, the XTC Black and XSC pearl white, each supplied with two cold forged aluminium spools. Whichever is the reel of your desire, it's sure to get everyone talking when they enter your swim – in fact the only bad point about this model is that everyone will want to try it for themselves!
We seriously cannot over-emphasise just how good this reel is; head to your local stockist and get one in your hands, as it really does have to be felt to be believed! A true showcase of just what technology and craftsmanship is available from Shimano.
So how do you even begin to pair a reel of such magnitude with a carp rod? Well simply you stick with the company that knows and head to the flagship of the proven, tried and tested Tribal range, the Tribal TX Ultra!
This is a precise balance of finesse and power that in the right hands can cast to unthinkable distances, currently recorded to over 243 yards! Unbelievably this combo remains a sheer pleasure to play carp on as well as offering accuracy and balance. It almost sounds too good to be true doesn't it?
Available in a conventional 12ft length and the larger 13ft model, one of the Tribal TX Ultra's secrets lays in the blank construction. Utilising the ground-breaking Spiral X construction process the angler is left with a blank that benefits from enhanced torsional rigidity, but with minimal additional weigh in the blank that actually results in instant power transmission that enhances precision casting and fish fighting abilities. In laymen's terms, the Spiral X construction consists of three layers that include a blank made of vertical fibres, and both an inner layer and an outer layer that feature carbon tape which then is tightly wound around the blank diagonally in opposite directions offering remarkable strength and accuracy. So where exactly does the required flexibility come from? Well that lays in another secret technology, known as HI-Power X.
Hi-Power X is the final layer of the blank's construction, the outermost layer where the carbon tape is wound and wrapped diagonally in an X motion. Depending on the desired action of the finished rod, the layer is wound with varying widths and angles to ensure that specific blank is tailored specifically to a selected species or situation. On the Tribal TX-Ultra model this process delivers a crisp feel with emphasis on giving instant and consistent power and control to the angler.
Boasting a split futuristic looking EVA butt grip, a lightweight Shimano Ci4+ reel seat and six Kigan rod eyes, this specimen rod is very much special in every sense of the word and that's why we believe this to be THE rod to pair with the incredible Aero Technisium MgS. A match made in heaven and the ultimate choice for the discerning carp angler (or if you're the ultimate tackle tart!).
RRP: From £419.99 & £639.99
WEBSITE: www.fish.shimano-eu.com
To find out more about the Aultimate rod and reel combo, watch the video below.