SHIMANO | TX-Lite Setup (Video)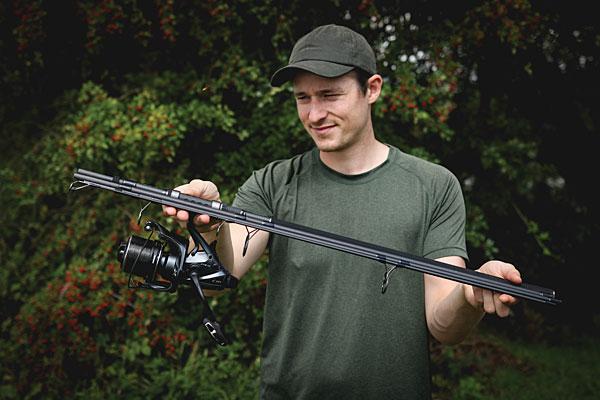 The past several years have seen an explosion in the call for lightweight, compact fishing tackle. Smaller rods have taken the market by storm, suiting anglers across Europe from small urban venues where public transport is vital, to the forgotten hidey holes on even some of the countries' most prestigious waters, or even if you fancy taking a rod when heading away on your holidays.
It has always been a constant struggle to match the reduced packed size while still retaining the full capabilities and build quality of larger rods, but now tackle giant Shimano has stepped in with the fully encompassing TX-Lite range, we believe we have found one of the most complete packages out there.
The Tribal TX-Lite series brings to the market a superior range of four-piece carp and specimen rods utilising the field leading technology Shimano is renowned for in a travel friendly, compact solution.
Utilising XT100 carbon and Nano technology the TX-Lite rod range is on average 35 per cent stronger and 15 per cent lighter than traditional rod blanks, while boasting outstanding fish playing capabilities and with plenty of power in reserve to suit a wide array of carp fishing scenarios.
Starting with a 7ft model, a further four rod lengths are available including 8ft, 9ft, 10ft and 12ft. Being four pieces, each rod packs down to a minimum of 58.5, 73.5, 80.5 and 96.5cm respectively. Each of these is extremely useful for transporting, storage and even taking on your travelling adventures.
With an EVA handle and Shimano Woven Carbon reel seat the TX-Lite range of rods are simply a joy to use and a true art of workmanship to sit behind. Each rod is finished with the highest quality Seaguide Stainless Steel eyes for durability and functionality. Supplied in a hard case tube these rods are travel ready to get out on your next road trip!
Keeping a balanced setup is a fundamental part of any angling situation, from float fishing to a full gauge heavy carp setup, and if you have spent the time to refine your approach then you need reels that are ultimately light enough to pair with your rods but still durable to deal with all the rigours of modern day carp angling. Let's be honest here, Shimano has always been one of the most highly recognised fishing reel brands in the world, so it seems the right decision to pair up the TX-Lite Rod range with the Medium sized 5500 Baitrunner XTB Ci4+ Longcast. Having replaced the predecessor XT-A series, which certainly stood the test of time, the new and improved version is fully loaded with all the most advanced reel technology on the market, including Hagane Gearing, X-Ship, Hi-Speed Drag, X Protect Ci4+ Body and rotor, not to mention the prestigious Baitrunner that produces the most instant and seamless free spool function around!
Described as the medium model, the 5500 weighs a mere 500g, and will house 425 yards of 10lb main line, 315 yards of 12lb and 230 yards of 16lb. Supplied with a spare spool, you can even choose a hefty fluorocarbon of mono main line for when fishing in close or demanding situations and a tapered main line for when distance is key. The options really are endless and can be tailored specifically to whatever angling situation you find yourself in.
So we have rods and reels suited to your next session on the bank, but equally as important is of course protective luggage to keep you ready for action. The TX Lite 2+1 Rod Bag is exactly just that. Suitable to take up to three rod and reel combinations, the Aero Quiver Basic connection system also allows you to house your net in the dedicated net pocket, and a nifty lead pocket to keep your leads to hand when setting up and packing away. The rod bag measures 103 x 24 x 25cm and features a comfortable padded shoulder strap and convenient carry handle. Not only durable, the material is reinforced and can be wiped clean on the areas that will see the most contact with the muddy bank, ensuring you can keep your gear in tiptop condition for years to come.
The system is compatible with all lengths and models available in the TX-Lite range thanks to the zip closure securing your attached reels in place and the removable separate rod hood to keep guides and rod tips completely protected.
All three items will undoubtedly create one of the most desirable lightweight and compact carp setups around. With a pedigree of decades of experience and advanced technologies used across each item, this is not only a setup that would suit 99 per cent of angling scenarios but also one that will ultimately make your mates – and us – extremely jealous!
RRP: £VARIOUS
WEBSITE: www.fish.shimano-eu.com
To find out more about the TX-Lite setup, watch the video below.