RIDGEMONKEY | Disperse PVA Range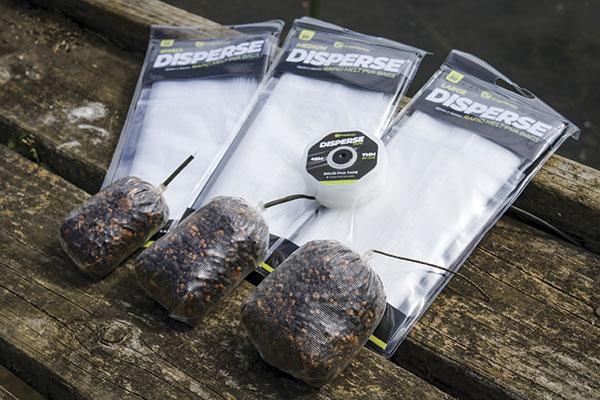 PVA Mesh
RRP: £5.99 and £10.99
PVA mesh has a wide array of uses, helping you to accurately deploy feed directly around our hook bait, using proven stick mixes, crushed boilies, maggots and just about everything in between. The Mesh System incorporates five metres of super-tight micro-weave PVA mesh with a total dissolve formula, meaning zero residue and a fast breakdown. The system utilises an easy-load scoop tube for ease of loading small feed items such as oily stick mix, micro pellets and PVA friendly particles, and the included plunger helps to compact and shape your sticks with relative ease.
The mesh is available in three sizes to suit boilies, PVA sticks and wider stockings, they are 30mm, 25mm and 20mm and refill options can be purchased for just £5.99
Foam Nuggets Session Pack and Foam Nuggets Refill
RRP: £4.25 and £6.25
Without doubt one of the most useful forms of PVA used by carp anglers, designed to help improve the anti-tangle properties of rigs, ensure the valuable hook point remains sharp and of course unimpeded on any obstruction. PVA nuggets help to slow down the descent of hook baits, helping you to perfectly present your bait over silt, weed, gravel and more.
Once dissolved from your rig, the ultra-bright colours give you an accurate target to bait up directly over your rig and help to identify the spot you are fishing. Supplied in a handy moisture proof container with convenient flip lid, the session pack is ideal for keeping your foam in tiptop condition and in a sturdy box – gone are the days of crushed compressed foam nuggets that take an age to dissolve! A handy resalable refill pack is also available to keep you topped up when you are running low.
PVA Tape
RRP: £3.99
The RM Tec Disperse PVA Tape is supplied on a tackle box friendly 40m spool. At 7mm wide, it is not only ideal for securing PVA bags but also constructing PVA stringers, tying off lead clips without tail rubbers and much more. With a smooth finish and rapid melt construction, you can rest assured the PVA Tape will 'Disperse' when submerged, leaving no residue while ensuring you are fishing most efficiently.
PVA Bags
RRP: £3.15
Available in small, medium and large, the rapid melt formula utilises premium grade PVA while ensuring an extra-strong film will keep your bags solid and intact even when chucking them at range.
An ultra-low residue ensures superior presentation with minimal left over PVA around your baited rig, perfect when casting to showing fish, fishing in clear water scenarios and generally minimising your presence.
The small bag measures in at 60 x 150mm, making it ideal for long distance fishing using a streamlined parcel of small feed items, ideal for powders and pellets. For the majority of carp angling situations the medium size 70 x 150mm allows the angler to include more and larger bait items, which will suit most scenarios, whereas the big boy of the range, the large, is 85 x 150mm, perfect for dropping with aid of a bait boat or boat, fishing into beds of weed or when you choose to feed heavily, or even incorporate chopped or whole boilies.
WEBSITE: www.ridgemonkey.co.uk