GARDNER TACKLE | PVA Range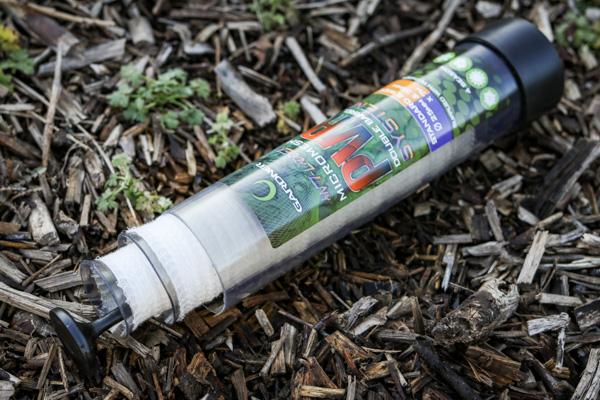 SYSTEMS AND REFILLS
Systems from £7.99; 5m refills £5.99; 20m refills £13.99
The PVA System Double Barrel Micro-Mesh is a singular system that incorporates two systems in one package – a thinner 25mm and a larger 35mm diameter PVA funnel. Complete with a double-ended plunger to ensure each mesh bag can be tightly packed, the standard and wide mesh boasts seven metres. With a tight weave, you can safely use the micro-mesh for maggots, groundbaits, pellets and more! Narrow standard and also wide micro mesh refills are also available separately on 7m and 20m spools.
Three other PVA systems are also available including the Narrow micro-mesh at 15mm, Standard size micro-mesh 25mm and the largest 35mm Wide Micro mesh. Each system is supplied in a waterproof tubular container with an airtight lid to ensure the product's longevity even when being used outside, and of course comes with a plunger for the dedicated mesh size.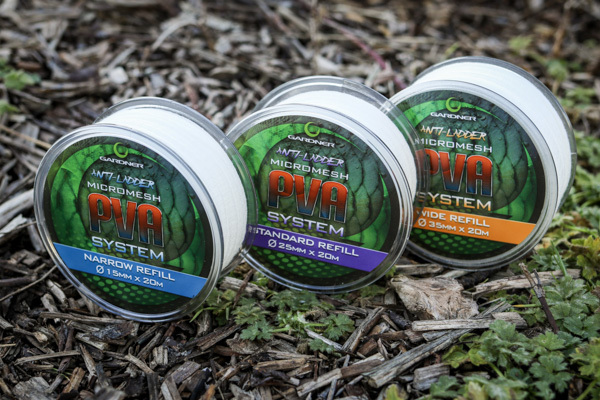 SOLID BAGS
Standard £1.75 (10); £2.99(20/25)
A range of PVA bags designed to be tough enough to withstand casting and filling, but with the ability to lick and stick tag ends and to help fold the corners in for a super-aerodynamic package.
Designed to be used year round, these have a reliable breakdown time, and are available in a standard 10 pack size and the larger bulk pack of 20 to 25 bags.
Available in a micro bag at 45x95mm, mini at 60x105mm, standard at 80x130mm or the larger magnum bag at 110x138mm.
Slo-Mo £2.99 (20)
For anglers fishing more specialised situations, perhaps fishing at extreme ranges where you are casting with force or fishing on deeper venues, even warmer climates that would benefit from a slower breakdown rate, the Heavy Duty Slo-Mo range is the PVA bag range for you. Available in a mini bag at 60x105mm or the standard at 80x130mm these bags come supplied in packets of 20.
Another specialised item available from Gardner are the PVA tubes, designed for anglers opting to fish with longer than average hook links or stiffer material that you do not wish to kink up when loading. These elongated solid PVA bags are particularly effective when targeting weedy or silty spots that could otherwise cover a more traditional smaller PVA bag. Measuring in at 66x193mm.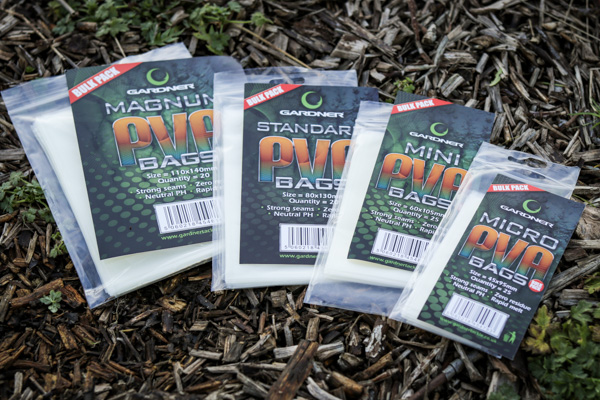 BOOMS & TUBES
From £3.50
Designed to help eradicate tangles when using supple and soft braid hook links these versatile dissolving tubes have a wide range of uses, from distance casting, lowering rigs from boats and or bait boats, and are easily used by simply threading the hook link through the hollow inner core.
Available in three lengths – 10cm, 20cm and 30cm – the 3mm thick booms can be cut with ease to your chosen length, which is perfect when using them to secure longer hairs in position on the cast as well as injecting PVA-friendly liquids and attractors to give an essential boost to the hook bait area.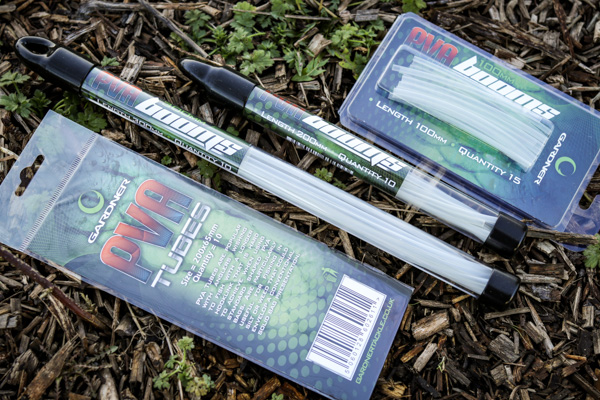 STRING/TAPES
Original PVA String £2.99
Standing the test of over 25 years, this versatile item has certainly earned the name 'Original', and with its super-reliable breakdown is still just as popular as the day it was released!
Hand-made in the UK to ensure the quality, each 20cm length can be untwisted to provide 120cm and once untwisted will speed the breakdown time up, perfect for using in cold conditions or when speed is very much of the essence. Each pack comes with four lengths supplied.
PVA Tape £4.99
Supplied on a handy 20m spool, this 10mm wide tape is ideal for use with stringers when baits are needed to be held separated, ensuring a guaranteed breakdown without the need for tying a knot. At a miniscule 0.7mm thick the tape will dissolve quickly across all temperatures you will commonly find yourself angling in.
Braided PVA String £4.99
A woven PVA thread with a flat wider profile, this is for when strength is required yet without using excessive amounts of PVA. Ideal for tying off and securing PVA bags or for when tying lead clips for big chucks. Supplied on a 10m spool.
Solid PVA String £7.50
Available on 20m spools, this mesh weave benefits from a circular profile, making it the ideal choice for tying knots. Just like the Fishnet Tape this is renowned for its strength and makes a very versatile product!
PVA TOOLS
PVA Baggit
£3.50
A simple but incredibly effective tool to aid the filling of PVA bags and stockings. A wide funnel neck allows easy loading, while the full length slit allows the line or hook link to pass freely into the bag while the lead can rest safely on the retaining ridge.
PVA Plungers
£1.99
Ideally suited to the different micro mesh available from Gardner, there are two plungers available to suit a narrow and a wide PVA system, to aid in compressing down finer baits such as groundbait, stick mixes or even pellets.
For more info, head to the Gardner Tackle website!
WEBSITE: WWW.GARDNERTACKLE.CO.UK