THE BAITSTIR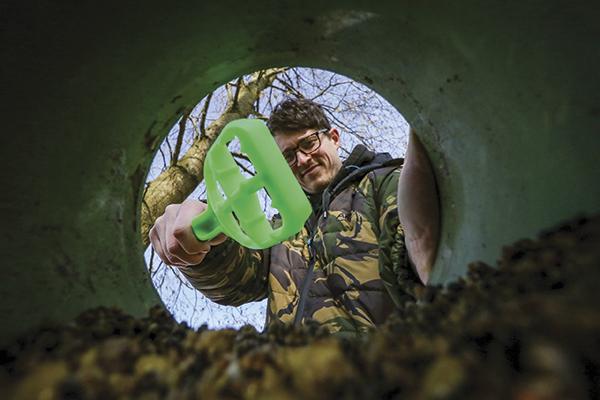 Brand new to the scene is an interesting product that is not really like anything else out there! Don't worry, this is not just another scoop, but rather a hand-held mixing device designed to combine together difficult to mix ingredients. This will appeal to carp anglers, match anglers and bait makers alike!
Firstly, the Baitstir is produced from a solid plastic moulding with a decent quality to it – it's not some flimsy piece of kit that is going to break on the first time of use. It features an ergonomic handle for a solid grip and the mixing face is specifically designed to break up and mix together the ingredients of your mixture as they pass through the four channels. Furthermore, a raised tapered edge to the device scrapes off mix that has become stuck to the sides of the bucket.
When mixing multiple fine ingredients such as a base mix or groundbait mixture it can be hard to get an even mixture without the use of an electric mixing device, however the hand-held Baitstir does the job perfectly without the risk getting a hiding from your better half for using the kitchen mixer! Similarly, some stodgy liquids can form clumps in your mix, but these can be efficiently broken up and dispersed through the mix using the Baitstir.
RRP: £12.99
WEBSITE: www.thebaitstir.co.uk