MIVARDI | Panther SHX Reel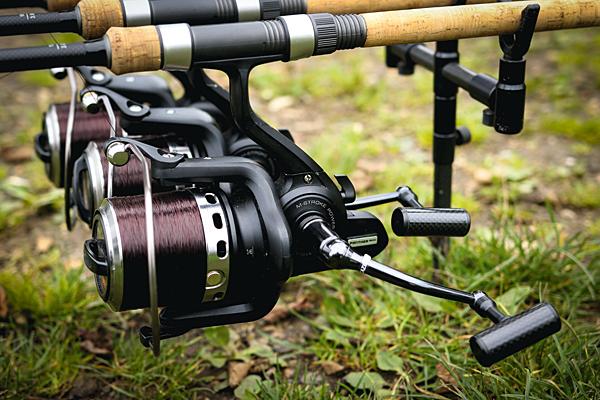 Now here is a piece of kit that is extremely impressive, not only on paper but in the hand too!
Long gone are the days where several hundreds of pounds would need to be spent to obtain a truly excellent reel. In fact a set of three Mivardi Panther SHX reels will cost less than £400, which may not sound out of the ordinary in today's market but the quality of each reel makes it an absolute steal.
Aesthetically the Panther SHX is a joy to look at, such is the combination of subtle detailing and the low glare finish paint job as featured on the body. This is nicely complemented by the CNC machined handle. A large ergonomic knob allows for a controlled yet effective wind, whether that be when reeling in a rig cast at long distance or battling a very large carp in snaggy and weedy venues.Having spooled the reel with line the angler will instantly recognise the superb line lay on the spool and this is thanks to the super slow oscillation. With line laying perfectly on the reel it will fly off the spool perfectly, allowing for longer casts and making the Panther SHX a solid choice when looking to fish venues at extreme range.
Upon retrieval the smoothness of the reel has to be felt to be believed and with 12 ball bearings plus one roller bearing it makes the process a true pleasure. What is also smooth is the oversized clutch, often a feature that is overlooked with reels sitting in a similar price bracket. The clutch releases line for when the carp pull back hard, and should line not release consistently a hook-pull is risked.
Weighing in at 760g the Panther SHX will balance beautifully on a number of a different length rods with various test curves. Weight saving has been achieved sensibly without compromising the durability of the finished product. For example, each spool has a number of holes drilled out around the bottom to reduce weight, a small detail that makes a significant difference.
A spare spool is also included with the purchase of each reel in the 10000 size, capable of holding up to 480 metres of line in 0.40mm diameter, which is most impressive and perfect for boat fishing.
RRP: £120.90
WEBSITE: www.mivardi.com