KODEX | CX-i Wireless Alarms x 3 + Receiver + Case (Video)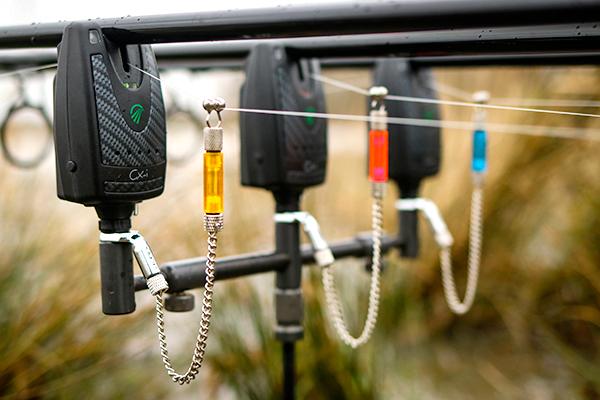 Three wireless bite alarms, receiver and protective case for under £250 – not only is that serious value for money, these units are loaded with all the bells and whistles!
With a subtle carbon-effect fascia these trendy bite alarms take advantage of a fully waterproof outer case, and with encapsulated electronics that offer unrivalled protection from water and condensation ingress. Regardless of what weather you fish in, or even wrapping your buzz bars and alarms in wet unhooking mats or sodden bags, you can rest assured every time the CX-i alarms come out to play they will be ready to rock and roll. Each bite alarm also features an anti-slip soft-touch TPE rod channel, which helps to ensure your rod remains firmly nestled on the alarm, which is great when fishing rods up or down depending on your chosen rod orientation.
With soft-touch button press you can set up each bite alarm with an excellent level of fine adjustment, giving you control over sensitivity, tone, volume and a very handy silence mode, for when wanting to keep your activity low key or to simply set your bite indicators without drawing unwanted attention and making unwanted disturbance. Further customisation is possible with the user being able to seamlessly choose between LED colorations including blue, green, purple, red, yellow and white, with the simple press of a button. The CX-i bite alarms also benefit from a night light that can be turned on to provide a visual indication that the alarm head is on, while also making for great night shots, for any budding photographers out there! We really are impressed with the amount of features and level of customisation found on this set of alarms and receiver at an incredible price of under £250 – the same features on other leading brands would easily cost double that!
As if this set didn't offer incredible value for money with the functionality we have already listed, each alarm comes supplied with two additional screw-in machined snag bars, so when fishing in snaggy situations or when extra security is required for fishing with tight lines, these will prove to be invaluable.
Incorporating a rolling code PRNG technology, synching the alarms and receiver for an instant connection has never been easier and you will hear bleep for bleep through each device, meaning you never miss what is going on, even when not sitting next to your rods. The receiver unit has a wireless range that will safely work in excess of 100 metres; although we wouldn't recommend being that far from your rods, it certainly does offer peace of mind! The unit also boasts a handy vibration-only mode and volume control to tailor to your needs.
Each bite alarm head powers from a 9V battery, while the receiver runs off three AAA batteries. What we love about this configuration is all petrol stations, convenience stores and other outlets sell these and that makes for a convenient element when on the way to your venue, or for stocking up prior to your session. Say goodbye to ordering hard to find batteries online or making trips to the tackle shop just to power your alarms.
If you are in the market for a new bite alarm setup or fancy upgrading your existing items then we would strongly recommend you take the time to check these out!
RRP: £244.95
WEBSITE: www.kodextackle.com
To find out more about the CX-i Wireless Alarms, watch the video below.