FUTURE FISHING | Custom Powermesh Rods (video)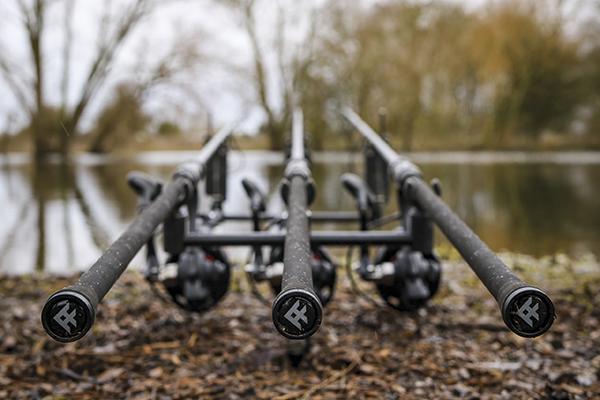 Future Fishing has selected the awesome pencil thin Daiwa Powermesh Rods to take to the next level with their very own custom design. Working closely with Daiwa for almost two years, the already tried and tested Powermesh rods now perform that little bit better as well as receiving an update in aesthetics at the same time. There are three rods available from Future Fishing with 9ft, 10ft and 12ft models. The 12 and 10ft versions have been given a test curve of 3.25lb while the shorter nine-footers have a test of 2.75lb.
A number of differences separate Daiwa's original Powermesh rod from Future Fishing's Custom rods, with 50mm SeaGuide Minima guides featured on each of the three models. Now this goes against the grain, especially when considering traditional 9ft and 10ft rods, but this decision does in fact make total sense (and makes the rods look super-sexy too). The reckoning is that shorter rods in general are restricted to the use of smaller reels, although there are in fact occasions when using a 9ft or 10 ft rod in combination with a big-pit reel is the ideal setup, such as boating baits at long distance when fishing abroad.
A 50mm butt ring allows for improved casting performance for all of the rods too, particularly the shorter variants, offering the ability to deposit a rig much further than expected. In summary the 9ft rod is a wonderful stalking tool, the 10ft is perfect for boat work, canal or small water fishing and the 12ft is the perfect all-rounder able to cast in excess of 120 yards range.
In comparison to Daiwa's Powermesh rod, Future Fishing's own take uses an extended 1k weave, which not only adds to the visual appeal of the rod but also further increases the blank's recovery speed. Strength is also improved without adding unnecessary weight to the blank, however fish playing performance is not sacrificed in any way.
More differences include upgrading to a SeaGuide reel seat from the standard Fuji as well as a hook keeper situated just above the seat itself, a subtle yet very welcome addition. The superb Japanese Shrink handle is retained and instead of the plain butt cap as featured on the originals, these customs are given the Future Fishing logo decal treatment. These limited edition Custom Powermesh Rods take all the things we love about the original release, which have then been upgraded to a rod that could realistically retail for double the price!
RRP: 9FT £69.99/10FT £79.99/12FT £99.99
WEBSITE: www.futurefishing.co.uk
To find out more about Future Fishings' custom Powermesh rods, watch the video below.