Esp Terry Hearn Distance Carp Rods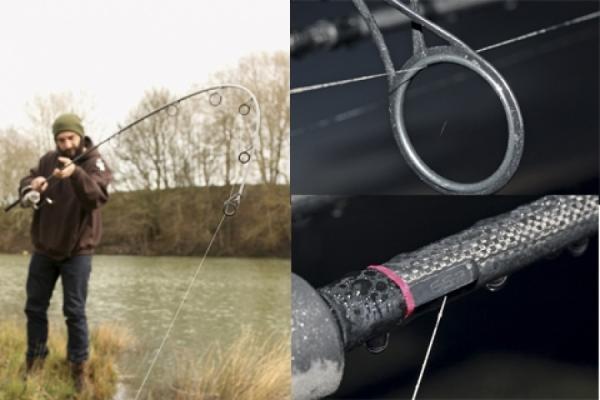 Dan Murrell's verdict A real joy to use and in my opinion they look pukka !
As I have written in previous reviews, I prefer using a longer than conventional rod, favouring 12ft 6in, 12ft 9in or 13ft models. Having used 12ft models for a few months I was quick to change when a set of Terry Hearn Distance 12ft 9in 3.5lb test curve came into the office for a Used & Abused review.
Aesthetically, I think it is fair to say that ESP has hit the nail on the head. Understated and clean, they benefit from a slim full-length EVA handle with a subtle flared collar that really looks the part. I spend a lot of time behind my rods and for this reason the stainless butt cap is a nice touch and the moulded ESP line clip is essential because I always clip my line when setting the bobbin.
In 3.5lb, rods can sometimes appear too beefy, but I believe that having that test curve over a longer rod actually breaks it down and makes it more user-friendly. The rods also feature 50mm butt rings and although this is popular with today's 'big casters', I would like to see a 40mm option because I think it looks better.
Also, I have my reservations about losing power through a larger eye. That said, I'll probably be proved wrong and, of course, the larger butt ring does help to reduce the dreaded line fraps, and when whacking a lead that is one thing I like to eradicate. I must also mention that the 50mm butt rings are actually light SiC ceramic, so they do look minimal and once again are as light as can be.
I have been able to comfortably fish at ranges of 120 yards casting with 12lb monofilament but if I adjusted my other items of gear, such as main line and reels, I reckon I could push this to around 150.
With regard to playing fish, I have landed carp from 12lb right the way through to 38lb on small waters as well as larger pits with no problem. The rod does have a nice shock absorption in the tip, which helps when the carp are at close quarters, but because of the length it is wise to stay in control on the reel and just let the rod do the work for you.
Don't try to bully your quarry or you might regret it because these are powerful rods. The extra length also helps with me connecting to the fish sooner than a 12ft model and when casting across islands in winds I am much more able to mend the line in the air than if I were using a smaller rod, which sometimes is enough to get you out of trouble.
Overall, I have really enjoyed using the rods and with ESP's blessing I wish to keep hold of them and report back in another six months to see how they cope with longevity. As of yet, though, I am extremely impressed. (DM)
£259

Don't forget - subscribers to the magazine get 5% OFF THIS PRODUCT at Angling Direct.
Subscribe here
Terms and conditions apply