Daiwa | Emcast BR LT Reel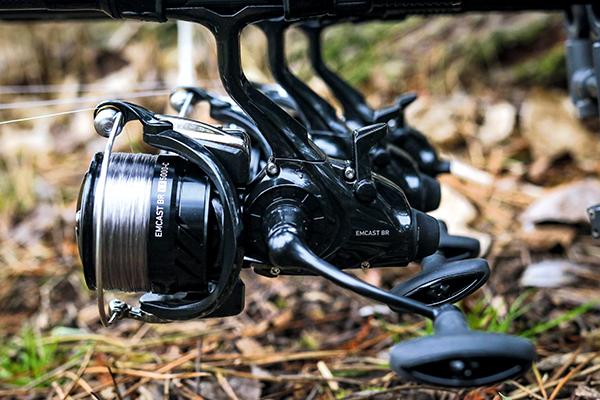 Breaking down the abbreviations, we learn more about this exciting new reel: BR stands for the proven and long-standing Bite 'N' Run facility featured, enabling the user to take control in an instant. Simply click down the rear clip and the Bite 'N' Run feature is engaged; once a run is underway and you lift the reel and begin to wind you will instantly take control and be able to play the fish on the drag.
The ATD drag results in a smooth performance that enables the user to maintain control in even the heartiest of fights; rated at 10kg, you can rest assured this little reel is packed with enough stopping power to control even the largest of stillwater fish. If like us you are a fan of back wind too, you can expect to find an infinite Anti-Reverse function switch under the back of the spool so taking ultimate control is only ever a click away.
The LT stands for Light & Tough, ensuring this little baby is loaded with the recognised Daiwa durability we have all come to love over the years, from the Tough Digger system, DS4 Body and Rotor mechanism and Crosswrap technology. Line capacity ranges from a modest 0.20mm/150m on the smallest 2500 model to 0.37mm/150m on the largest 5000-C. With weight being marginally different – the 2500 model weighing in at 295g compared to the 315g on the larger variation – this is a true lightweight winner, which makes the Emcast BR LT a real contender for anglers who love to stalk, floater fish and spend a fair amount of time with their rod in the hand, not to forget they would balance beautifully with lighter, sub-10ft rods.
Available in four models, the smallest 2500, 3000, 4000-C and the larger 5000-C, the Daiwa Emcast BR LT has been designed for small water or lightweight setups that require stopping power, modern line lay capabilities and of course extremely good looks!
Supplied with a spare spool, the Emcast BR LT is not only the ideal reel for smaller setups but is without doubt one of the best choices for young anglers or anglers starting out who want all the bells and whistles at a price point that will not break the bank, and a reel that will certainly not break on the bank too!
RRP: £99.99
WEBSITE: www.daiwasports.co.uk