DAIWA | Emblem 45 SCW QD-OT Reels (Video)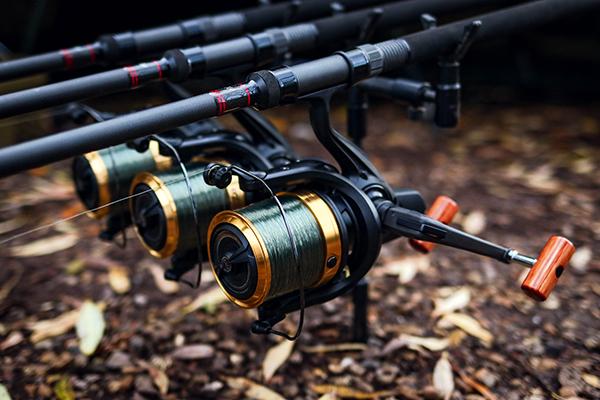 When it comes to reels, Daiwa really does take some beating, with cult status, unprecedented credibility from decades of experience, state of the art technology and manufacture, and of course some of the best aesthetics ever!
We often get excited when we hear a new model is going to hit the shelves, and when we received the call about this one, our editor had a little glint in his eye, and we just knew something was going to be added to his Christmas wish list!
All of you loyal and eagle-eyed readers will recall back in the August issue of 2019 we got our first look at the Emblem 45 SCW QD.
It has been 25 years since the birth of what was considered the first ever dedicated carp fishing big-pit, and that was of course the Emblem. Well, things have moved on since then and even in the last four months since we covered the Emblem 45 SCW QD we are pleased to unveil this incredibly eye-pleasing option – come on, just look at that gold spool!
As well as the latest addition to the generous 45mm LC long cast spool coloration, which just screams all kinds of carpiness thanks to the shimmer of what looks like the spool has been dipped in autumnal golden goodness, the OT in the name refers to the retro One Touch handle, complete with wooden knob.
Yes, it may only be a small adaptation, but for fans of folded handles, fishing tight snug multiple rod setups this is as essential as it gets, and we have to be honest we simply love it, from the setup possibilities to the neat effortless pack-down it provides, who doesn't love a click and flip!
The 45mm LC long cast gold spool is designed with casting in mind, and when paired with the exceptional line lay to minimise friction on the cast, the Emblem 45 SCW QD-OT utilises a reduced oscillation speed called Slow Cross Wrap (SCW), enhancing the line lay and ensuring the user is really utilising every percentage of what is needed to go the distance.
The Emblem 45 SCW QD-OT comes complete with both a shallow C and spare deep LD spool; (300m of 0.35mm and 530m of 0.35mm). The C spool allows filling of three spools from a single 1,000m spool of main line, boasting a minimum line wastage, which is not only great for the environment but also better on your wallet! This means less backing line, fewer knots and most importantly maximising the spool of main line you are now purchasing.
Each spool benefits from a HIP-High Impact Line Clip, which is forgiving on the line, even on those aggressive big chucks.
As you probably guessed the (QD) system situated on the top of the spool is as ever silky smooth, easy to operate with one hand and certainly will be set to last a fair few good seasons of constant use!
For the very die-hard Daiwa fans out there, you will notice the retrieval has been geared down from some of the predecessor models to 4.9:1 for additional power. However, a single revolution of the reel arm still cranks in an impressive 104 centimetres, so even on those big chucks you won't spend much time reeling in when you are in a rush to head off home!
All in all this is one feature-packed, extremely beautiful pieces of modern reel manufacture.
RRP: £225
WEBSITE: www.daiwasports.co.uk
To find out more about the Emblem 45 SCW QD-OT Reel, watch the video below.