DAIWA | Basia 45 SCW-QD Reel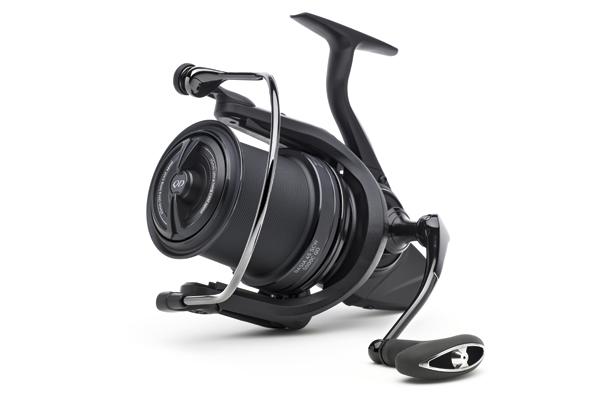 It's fair to say that many of us out there are partial to a little bit of matt black tackle, especially when it comes to our precious bite alarms, rods and reels. Almost a little cult among the carp angling society but this is justified especially when reels such as the Daiwa Basia 45 SCW-QD make their presence known. This is a reel for those who appreciate engineering of the highest quality and enjoy the finer things in life.
Aesthetically pleasing to the eye it is but it is in fact the construction of the reel that sets it apart from those costing less in the range. Let's start with the weight of the reel; this has designed to be as light as humanly possible with materials available at present weighing a mere 515g. Even the bail arm uses a concept referred to as Air Bail, which means the bail itself has been crafted to ensure it is hollow inside, therefore significantly reducing weight.
This is clearly a good casting reel too and just by looking at it and the extensive features in depth you quickly come to realise that some serious distances could be within reach with this attractive tool. Daiwa has gone as far as developing its very own material in the form of Zaion replacing aluminium, which is 50 per cent lighter, and as a result the Zaion body of the reel can be pushed through the air quicker when really cranking up for the long chuck. Of course the long-cast spool is beneficial and superior line lay offered by the Slow Cross Wrap technology helps enormously with the line leaving the spool with the least friction as possible. With each purchase of the Basia 45 SCW-QD is the inclusion of a spare spool in the package too, with each of the spools capable of holding a total of 300 metres of line with a diameter of 0.35mm. That is certainly more than enough for the majority of British carp fishing and will be well suited to much European fishing too!
The Quick Drag or QD has quickly become something of a standard for many of the reels in the Daiwa range, as well as the quality line clips being featured on the spools. The high impact line clips eliminate any damage to the line when casting and hitting the clip hard.
It's fair to say this new gem is going to be a popular choice for many anglers looking to invest in a new set of ground-breaking reels that will last for many years to come and will tame the largest of carp around the globe.
RRP: £525.00
WEBSITE: WWW.DAIWASPORTS.CO.UK