Chub Rs Plus Carp Rods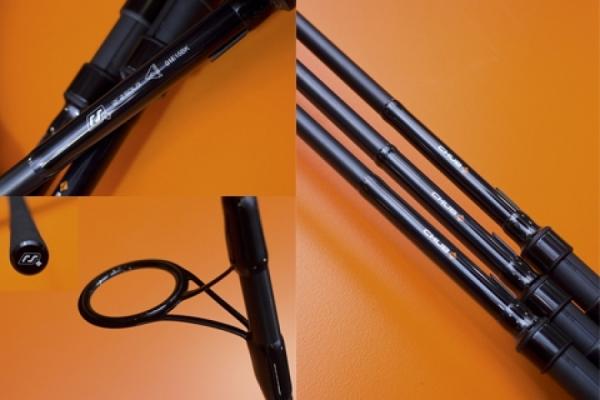 Designed for the modern-day carp angler, the devoted team behind Chub set out to bring to the market a carp rod that would cover 90 per cent of your carp fishing criteria, while being stylish, reliable and, of course, without breaking the bank.

Well after it was first unveiled to us at the Chub trade show we were immediately impressed and ever keen to give one a try, and here's why.
To suit the majority of modern carp anglers, the RS-Plus benefits from a superb and crisp progressive action that has enough backbone to cope with casting solid PVA bags while retaining all the enjoyment you wish to undergo when playing the carp at close quarters – the moment we all live for.
The blank is a 12ft slim and lightweight carbon construction finished with a trendy matt-black look and fitted with the popular double-leg SiC guides throughout.
A line-friendly, contoured line clip sits just above the stylish and comfortable 18mm gunsmoke-grey reel seat. In keeping with the minimal styling the butt grip boasts a full Japanese shrink-wrap that's nicely finished with an anodised and laser-etched butt cap.
Understanding the needs of the new-age carper, the RS-Plus is available in a wide range of test curves from 2.5lb, 2.75lb, 3lb fitted with a 40mm start guide, to a 3lb variety, 3.25lb and the beefier 3.5lb all fitted with a 50mm butt ring as standard, for those wishing to achieve longer distances.
The 50mm butt rings also look awesome when sitting pretty on a set of buzz bars. I think it's fair to say that there is a huge range of options to suit your specific needs and at a mere £59.99 these rods are ideal for newcomers to the sport either not wishing to spend too much money but are equally perfect for experienced anglers who know what they want from a carp rod.
Excluding extreme-range work of 150 yards plus, these rods really can do it all. If you fancy a new set of wands and are looking to get a set of two or three, then these are definitely one of our top recommendations.
There won't be much you can't use them for and at that price they are a real steal. Head to your local stockists and see for yourself.(DM)
£59.99 - Incredible value for money, however a 13ft option would be nice
Incredible value for money, however a 13ft option would be nice