AQUA | Atom Rod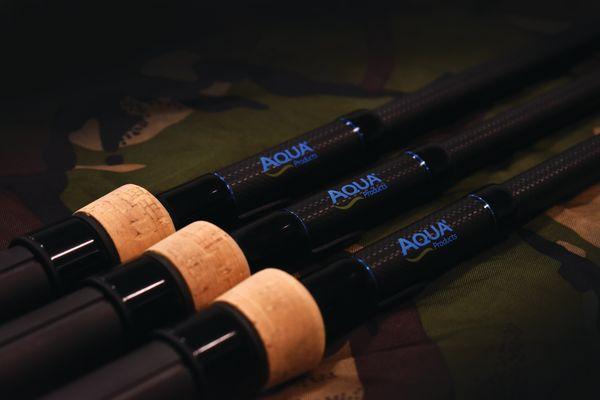 It is fair to say that when you think of Aqua you immediately think of bivvies, clothing and luggage. Aqua is renowned for its quality items and a proven pedigree, so you can imagine the buzz when it brought to the market transportable compact rods that fell within the Atom range – it's safe to say they didn't disappoint.
Constructed from a high-end 1K Japanese carbon construction, the Atom rod range comprises a telescopic butt section and put-over tip section that provide a packed down length of 52 inches and an assembled length of 10 feet. This makes it suitable to be stowed away in your car boot for opportunist sessions, or simply giving you more room on your barrow when setting off for your next trip. The minimal 10ft length has been proven vastly popular in recent years and suiting a multitude of venues, stalking situations, boat work and just general ease of use it is clear to see why.
There are three test curves within the range, and they are arguably the three most popular for the modern carp angler, suiting a wide array of fishing applications but also still keeping either the backbone to present baits at range, capable of handling large leads in river flows, or the enjoyment of playing carp in close quarters. We believe you will probably find one that will suit you among the range!
THE FINISH
The Japanese blank has been finished in an elegant manner with premium fixings, including the Pacific Bay Minima Guides complete with a slim frame anti-frap16mm tip ring and large 50mm butt ring. Coming down the blank you will also notice a Fuji 18mm DPS reel seat that is large enough to accommodate all modern reels, including both baitrunner and big-pit models in various sizes. A durable and seamless line clip is situated above the handle.
When it comes to the handle, there are two choices; an exquisite full cork number, which looks rather traditional, or a more stealthy looking full duplon grip. Both come at the same price point, so it is a simple question of your own personal preference. The rods are finished off with elegant blue-tipped whippings and a custom-made anodised black butt cap, making the Atom rods look as sleek and they feel.
CHOOSE YOUR TEST CURVE
3.25lb – a more forgiving action, which is a pleasure to play fish on and fish at medium range comfortably.
3.5lb – a fast-action blank capable of handling big carp and casting large leads.
4.5lb – suited to spod and marker setups or targeting giant catfish and exotic species.
RRP: £234.99
WEBSITE: www.aquaproducts.co.uk