WYCHWOOD | Tactical Bivvy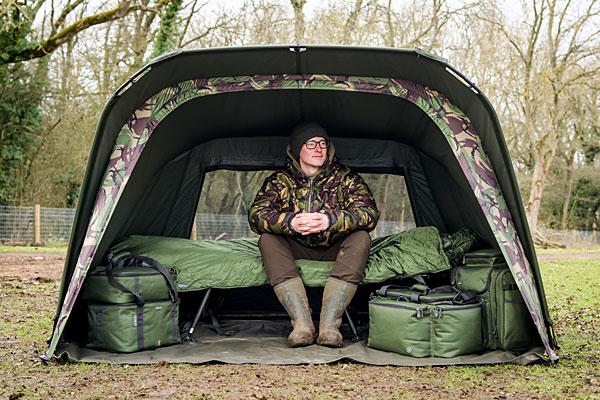 If there is one brand that continues to raise the bar and frequently astounds us on new product launches it has to be Wychwood, and the brand new Tactical Bivvy is one such product that we are positive will be a regular sight on the banks of UK waters this coming season!
First of all, let's talk looks. As anglers we all love camouflage, DPM and tactical military colorations, it is just something that simply excites us, but it is fair to say too much can be a turn-off and certainly a bit repetitive with current trends. With that in mind this dual coloration with a very photogenic camouflage front yet solid green sides and rear not only makes this shelter stand out from the crowd but also makes it a joy to look at from every angle.
The proven three-rib shelter design allows the Tactical Bivvy to be erected with ease, while offering a spacious shelter thanks to its squared off design. When stripped back, the shelter pulls the scales around to just shy of 5kg, and both for anglers fishing 'overnight style sessions' staying on the move, and for anglers that like to keep a minimal shelter in their rod quiver should the weather take a turn for the worse this is a very light, yet protective shelter indeed. When the full groundsheet is added and all of the pegs, the whole system will sit around about 10kg, so even when you want the full package the tactical shelter is still very much transportable.
Constructed from a 10,000mm HH ripstop material, full zip-in front door and a built in peak, the Tactical Bivvy offers full weather protection while the two large rear mozzi mesh vents allow the angler to control the inner climate with ease.
Sitting at 1,400mm high and 2,800mm wide, the Tactical Bivvy is big enough, and most importantly tall enough to offer the taller angler a comfortable shelter for long term use. Furthermore, the range of optional extras available mean this could be one bivvy system that will ensure you can use the shelter year round.
A Tactical Bivvy Overwrap can be purchased separately for £119.99, allowing the user to benefit from a condensation free shelter throughout even the harshest of winters, while regulating the internal temperature, and for summer anglers fishing those mosquito ridden pits, a mozzi door can be yours for just £19.99. If observation is key in your angling and despite whatever the weather throws at you you find yourself watching the water, a purpose built oversized clear Tactical Bivvy door is also available at £19.99.
If you're in the market for a pram-hood bivvy that is a little bit different to the other shelters on the market, it's well worth checking this out!
RRP: £249.99
WEBSITE: www.wychwoodcarp.co.uk