SONIK | AXS Camo Bivvy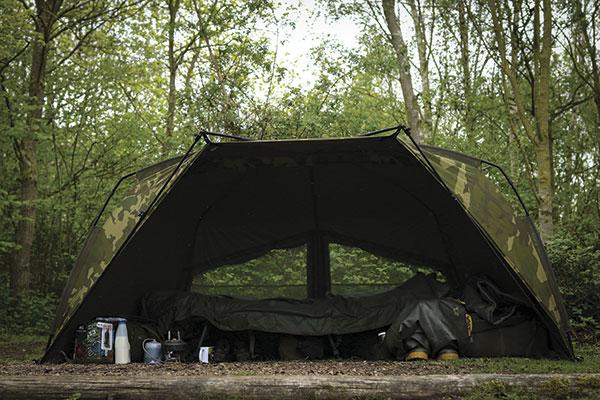 Over the years travelling light has had its drawbacks, with sacrifice to comfort, unreliability and inferior materials used for construction. Thankfully we now live in an age where we do not have to worry about the aforementioned, instead we have plenty of choice. One particular bivvy system that stands out from the crowd is Sonik's AXS Bivvy, which can be erected super-fast, is ever so stable and yes you guessed it, is pretty lightweight! Weighing in at 9.2kg including the door, groundsheet, pegs and storm poles you can see why this piece of kit has in the past sold out very quickly after release.
Due to demands Sonik has now released its AXS Camo Bivvy. All of the features remain exactly the same as the original AXS Bivvy but with the addition of a trendy Camo skin. The exclusive Camo Cloudbase Fabric is exceptionally durable and is highly waterproof with a hydrostatic head rating of 10,000mm. This material makes light work of heavy downpours, allowing it to bead and roll off effortlessly, while also cutting out light. This helps keep things cool inside during the warmer months and also aids a mid-afternoon siesta!
A large peak offers great protection from rainwater entering the bivvy when you have an open front. This door has a number of customisable options including solid green panels, clear PVC or mozzi mesh and the entire front can be zipped on and off at your leisure depending on the weather conditions and time of year. Furthermore, the twin rear vents allow for additional airflow when required. A really cool little feature here is the inclusion of spacers for the rear vents to be partially opened, which allows air to still flow through the system even when it is raining.
Several pockets have been installed inside the AXS Bivvy to keep items to hand or to keep personal belongings in a safe and sheltered spot. Internal space is maximised as the back of the bivvy has a flat back allowing for bedchairs to be pushed right the way back. There is however, plenty of headroom when sitting on your bedchair preventing bad backs while sitting and watching the water. A highly durable groundsheet is supplied and can be installed in a number of seconds with the five buckle points.
Setting the bivvy up is as simple as connecting all of the poles together before proceeding to fan out the back and then lock the front poles into the super-strong AXS centre hub for an ultra-fast setup. The lightweight aluminium poles have been carefully designed to be anti-twist, which means they can only ever fit one way. These keep everything taut whereby the two supplied two poles further adds to the rigidity of the system and so do the several pegging points. The whole lots packs effortlessly into an oversized carry bag in readiness for a move or the next session. Above all this is a reasonably priced bivvy system with a wide range of features, and with the strength and durability found in products more than double in price, Sonik has once again smashed it out of the park.
RRP: £349.99
WEBSITE: www.soniksports.com