SONIK | Xtractor Bivvy (Video)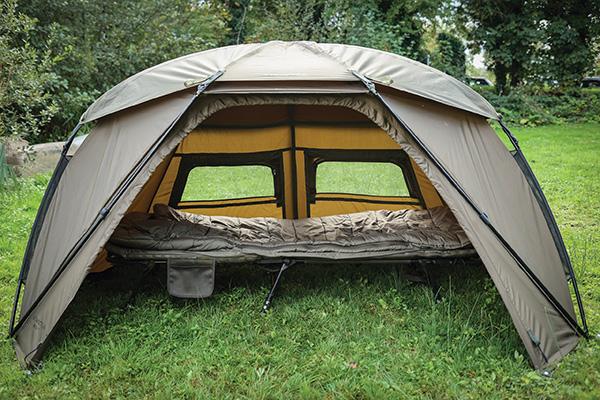 The brand new Xtractor bivvy is part of the ever-growing and increasingly popular Xtractor range from Sonik. A simple concept, ensuring anglers can buy high quality products that are designed to minimise space when in transit and loading vehicles and barrows but without compromising on specifications and usability.
As the name suggests, one of the huge selling points of the shelter is the short transport length, which makes storing and travelling with the bivvy easier than ever before, but once erected providing a generous footprint of 260cm x 175cm and a height of 125cm. To ensure the shelter is as large as possible, a handy flat back and steep sides result in maximum internal space that is actually usable and not wasted as seen in older shelter styles.
The Xtractor shelter boasts a super strong aluminium centre hub, ensuring the shelter is rapidly erected and thanks to the lightweight anti-twist 16mm 6061 aluminium poles, remains both durable and solid even in adverse weather conditions.
The 5,000mm HH 210 PU backed polyester material is super-lightweight, but still ensures a fully waterproof shelter, and what we really like is the included vapour cap, which helps to reduce condensation forming from the top of the shelter, while also helping to regulate a cooler internal temperature in the hot weather seasons, which is aided with the inbuilt rear mozzi vents with internal open and close option.
The shelter itself also benefits from a lowered front with rain drip guard for extra protection, which is handy when fishing nights without the front if a quick shower may pass unexpectedly. A two-way letterbox style door with a choice of window panels is supplied as is the zip-on and off front panel complete with mozzi mesh side windows, not to mention the hardwearing Rubba-lite removable groundsheet, which is an essential for the coming months.
Weighing in at just 9kg (everything included), the bivvy can be stripped back to the bare bones and a super-lightweight shelter of under 5kg. If you have been looking for a practical and compact shelter for short sessions, or to help lighten the load but without entirely giving up on comfort and most importantly keeping protected from the elements, then the Xtractor Bivvy could just be what you have been waiting for.
RRP: £299.99
WEBSITE: www.soniksports.com
To find out more about brand new Xtractor bivvy from Sonik Sports, watch the video below.