NASH TACKLE | Titan T1 MK II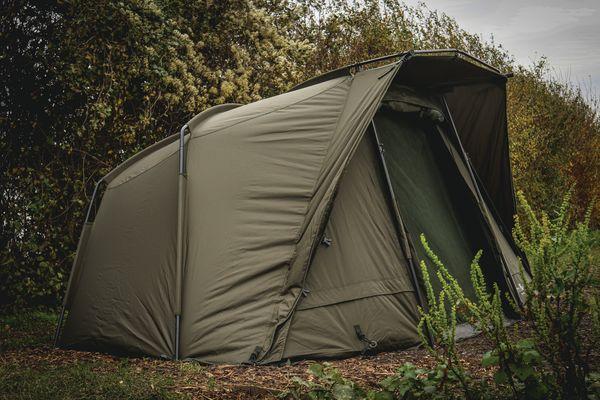 The Titan Bivvy from Nash Tackle has long since been recognised as one of the most premium bankside shelter solutions, where strength, rigidity, build quality and durability are second to none. With no less than 10 variations of the Titan Shelters among the full range, we take a look at the Titan T1 MKII, which boasts the timeless design that has become a firm favourite among anglers worldwide.
A spacious yet compact one-person shelter, it seems to be an oxymoron, but somehow the Titan achieves it magnificently! The bivvy now features the innovative design tension bar with reverse clip originally found on the Titan Camo, which creates an ingenious storm peak that helps to eradicate water retention on the top and front of the shelter even in the worst of weather conditions.
Like all T1 models, The MKII includes a full removable zipped inner mesh capsule for comfort and protection against rodents and unwanted creepy crawlies while also eliminating the dreaded condensation drip, and a very handy light hanging hook that can be used to keep receivers, headtorches or light safely stored within arms' reach. Other features include a mesh door with letterbox storm panel and Velcro clear storm door panel, as well as a rear mesh ventilation system allowing the user to maintain a comfortable internal environment in both hot and cold climates, or equally when you are cooking and need adequate airflow to prevent steaming up!
Weighing in at 14.9kg the Titan T1 MKII isn't supposed to be an ultra-light shelter solution, instead it is designed to be an all-encompassing protective shelter that can be stripped back for short sessions as well as being able to accommodate anglers on longer sessions with superior weather protection. The T1 MkII has a maximum width of 290 centimetres, a rear width of 270 centimetres and an internal height of 135 centimetres. When rolled back the front panel reveals a spectacular panoramic view of your venue, allowing you to watch the water with ease yet remaining comfortable and protected.
Utilising a heavy duty Titan Nylon outer the Nash Titan T1 MKII is a serious force to be reckoned with, multiple pegging points, storm pole attachments and the renowned frame system provide a sure and steadfast shelter, in wind, rain, snow and just about everything else mother nature can throw at you… even falling trees in the past!
There is also a wide array of additional extras available including a T1 Wrap, T1 Extreme Canopy and Extreme Canopy groundsheet to name but a few, perfect for pimping your T1 for when comfort, space and luxury are a must, making a versatile all-encompassing bankside shelter system.
RRP: £599.99
WEBSITE: www.nashtackle.co.uk