WYCHWOOD | Oval Unhooking Mat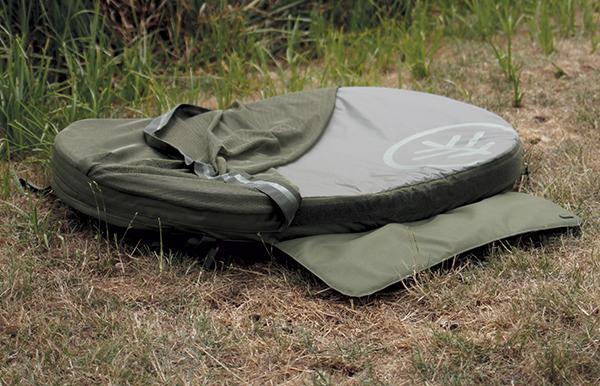 Wychwood is the brand that keeps on giving in recent years; since its update, facelift and modernised branding exercise it has continued to release a number of outstanding products that have been nothing short of impressive. The quality, design and price point of all of the recent releases have ticked every box and this dedication to producing top-drawer products has resonated with anglers across Europe.
The predecessor to this exceptional piece of fish safety equipment is the Epic mat, which was regarded highly as a superior flat design mat, thanks to the twin-layered high density foam that created a shaped well in the centre of the mat to safely cradle your prized capture during the unhooking process.
This all-new Oval mat features the same dual foam design, but the clever product bods at Wychwood have updated it to include some fine-tuned tweaks to improve the overall product offering. Designed to offer unrivalled protection, the fish-friendly mat comes complete with dual density foam that has been sculptured to encourage weight distribution to the centre of the mat and boasts 90mm of padding.
The heavy-duty yet fish-friendly materials that have been used ensure this mat can last through the rigours of a life outdoors. A padded kneeling mat has been included for your comfort while kneeling down to unhook your prize and a safety mesh retention flap will retain your capture while on the mat via a Velcro fastening system that encircles the perimeter.
The base material of the mat is made from a heavy duty PVC that is uber-safe, easy to maintain thanks to a wipe-clean surface and is water resistant, ensuring that no water will ingress into the foam internals. The mat is barrow friendly and relatively lightweight so it's a perfect fish-care addition for the mobile angler without compromising on fish safety.
The mat folds in half for optimum storage in transit too, reducing bulk, which results in a space-conscious product.
RRP: £59.99
WEBSITE: www.wychwoodcarp.co.uk