WYCHWOOD | Comforter Packsmart/ Mini Packsmart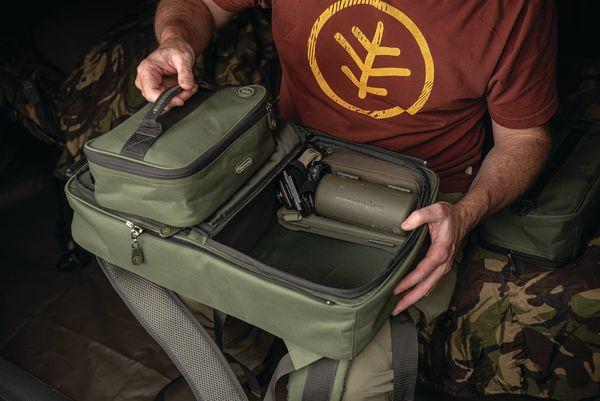 Modular storage has gained plenty of traction in recent times and it is evident why as the ability to be able to organise, store and find the contents quickly with ease makes for a far more enjoyable and efficient experience. Take your typical rucksack for example; with a large central compartment it is possible to pack lots of items inside, although when it comes to wanting to grab something at a moment's notice this is when things can get messy! The likes of Wychwood however, recognised some time ago now that your bog standard rucksack just simply doesn't cut the mustard, and is now releasing the latest iteration of its unique Packsmart. Sitting in the Comforter line this luxury piece of kit continues to feature many of the characteristics that the previous model utilised.
On first inspection you will instantly recognise that the Comforter Packsmart is a well-constructed high quality rucksack. It is extremely well padded on the back with added ventilation helping to prevent excess perspiration when walking long distances in the summer sun. Padded shoulder straps are essential and so too are the number of adjustable straps around the Packsmart, namely the chest strap and belt buckle for added stability, which are both extremely useful when carrying a heavy load to the swim. In terms of storage there are three compartments featured on the face as well as one large main compartment that can be divided into two, depending on how you wish to organise your tackle.
The main compartment is great for housing bulky items with the likes of tackle boxes, scales and spare clothing for example. The three additional compartments, unlike the main compartment, are not a permanent fixture, instead they can be removed from the bag in session with bespoke zips. These can be on display for the duration of a session with the main compartment stored under the bedchair to make full use of the space inside the shelter. A stowaway rain cover has also be implemented into the design and is great for setting up, packing away or making a move for the next swim.
The new Comforter Mini Packsmart complements its larger brother very nicely indeed, and being smaller in size will find its way into both the short and long session angler's armouries. Its unique design allows the bag to be carried by one of the two carry straps as featured on the top as well as the side, and when in use can be unclipped and splayed out to access the main compartment and two remaining removable compartments.
RRP: £79.99/£29.99
WEBSITE: www.wychwoodcarp.co.uk