WOLF | Camo Pack Black Edition Cases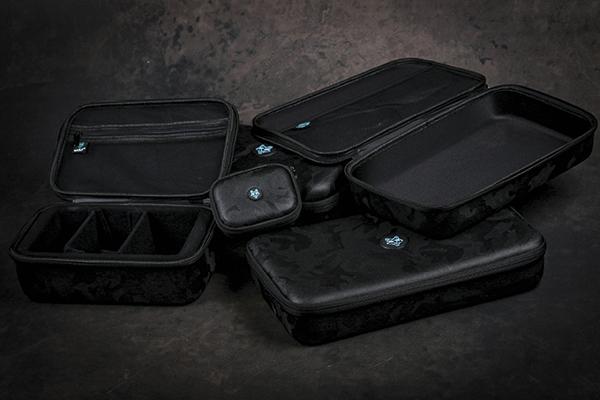 Keeping kit organised and to hand puts you one step ahead of both anglers and the fish. We can act that much faster for a show, move or change in tactic by knowing exactly where everything is kept. Yet we need the right kit to do so! The Wolf Camo Pack Black Edition Cases are just the ticket as they come in all manner of sizes to cater for the various items of tackle we take fishing with us. Because of their hard exterior shell they also promise to protect anything housed inside as the new Camo Pack's protects against dust, moisture and UV damage.
Constructed from EVA, these lightweight cases are covered with a soft touch camo fabric that has a top loading structure that be accessed through the main zip. Upon opening the lid of each case you will notice there is a meshed pocked inside the lid and this is absolutely perfect to store items that need fast retrieval without needing to dig around in the main body. A lined interior also ensures the contents is safe from damage when travelling to and from your chosen venue.
There are six sizes of the Wolf Camo Pack Black Edition Cases to choose from and with such a variety these can be used to fill voids you currently have in your luggage, therefore maximising space. The smallest of the bunch measures 10.5 x 7 x 6cm, whereas the largest measures 42 x 19.8 x 7cm. You are only limited by your imagination when it comes to filling these cases to the brim, and with a starting RRP of just £9.99 they are exceedingly well priced too.
Camo Pack Black Edition Case Sizes & RRPs;
50 – 10.5 x 7 x 6cm: £9.99
100 – 10.5 x 15.5 x 6cm: £14.99
300 – 23 x 13 x 10.5cm: £19.99
325 – 28.8 x 17.4 x 6.5cm: £22.99
400 – 33 x 19.8 x 6.5cm: £22.99
675 – 42 x 19.8 x 7cm: £24.99
WEBSITE: www.wolfint.com