Solar's Undercover Camo luggage range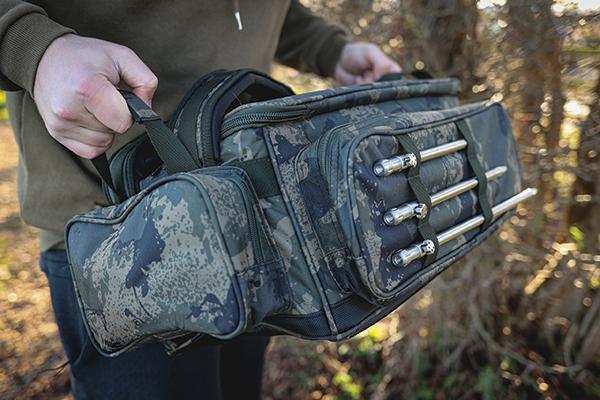 Ruckbag
For anglers who are constantly on the move or those who require more room on the barrow, a rucksack is absolutely essential. Amongst the various designs available, the Solar initiative has seen the creation of a product that is not only extremely comfortable to wear for long periods but is also feature packed. Designed to slide easy under a bedchair when not in use, the flat back and stiffened sides allow for the luggage item to retain its shape, even whilst empty.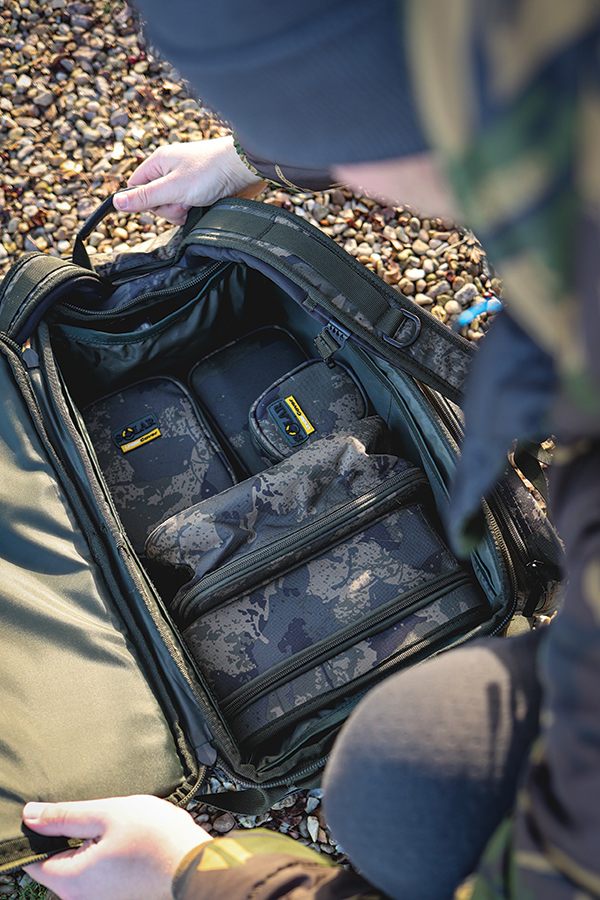 Various pockets are dotted around the exterior of the rucksack including one full length pocket, which is great for the safekeeping of buzz bars and the like. Elasticated straps have also been installed to house banksticks with the alarms and bobbins already attached and waiting to rock!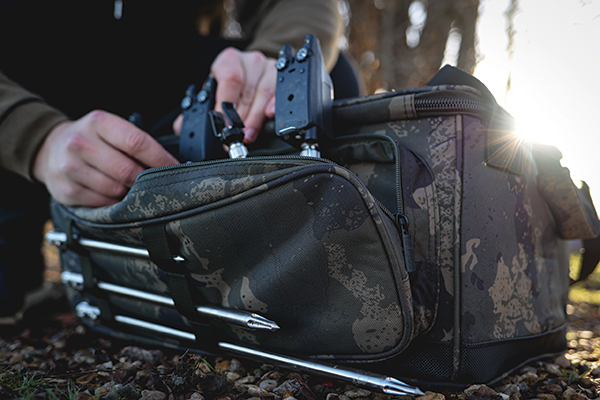 Carryalls
The great benefit of using a carryall is that is entirely possible to store the vast majority of kit you require for any single session. This includes the likes of tackle, spare clothing, bait, alarms, rod support and even camera equipment. With two sizes on offer, both long and short session anglers are catered for. It is the main compartment of each carryall that shines as you are able to quickly access the bulk of your equipment at any one time.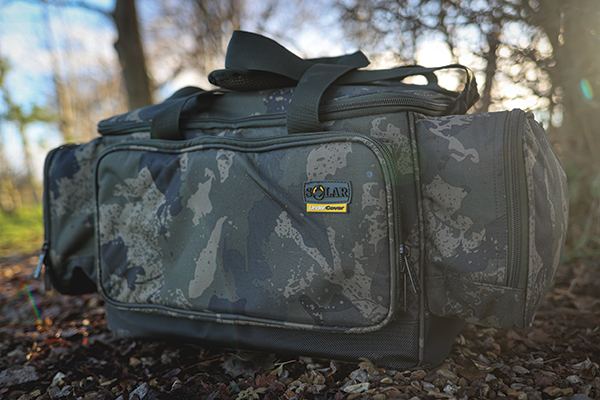 Contents are protected through the reinforced, hard wearing PVC base and Solar has been mindful to include some larger pockets featured at each of the luggage item, including a large front pocket. Carry handles and an adjustable shoulder strap provide transportation options for varying angling scenarios.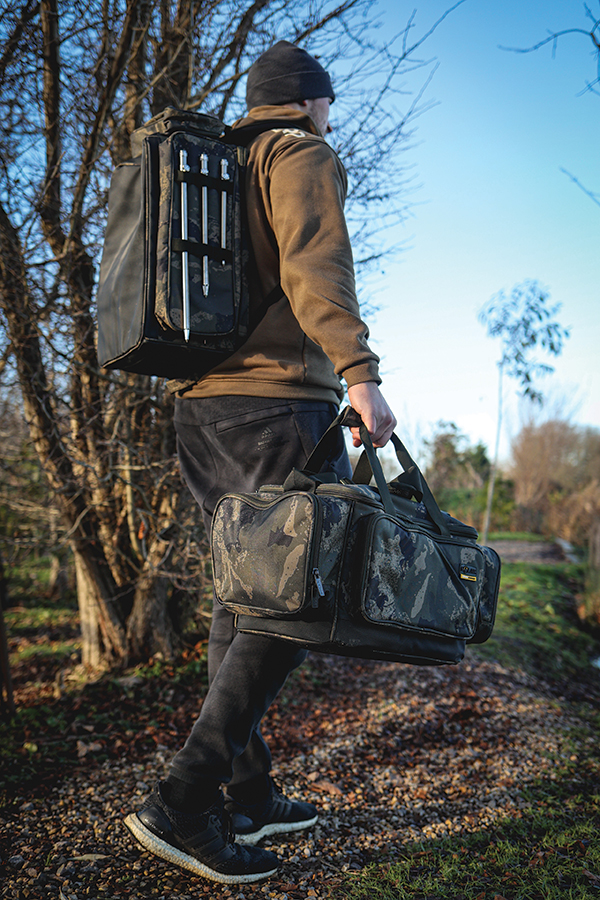 Cool Bag
This spacious cool bag offers plenty of room inside the main compartment, which measure 370mm in length, 250mm in width and 250mm in height. You will most certainly not be going hungry whilst bankside as generous insulation in conjunction with a reflective lining keeps your all-important food and drink cool for extended periods.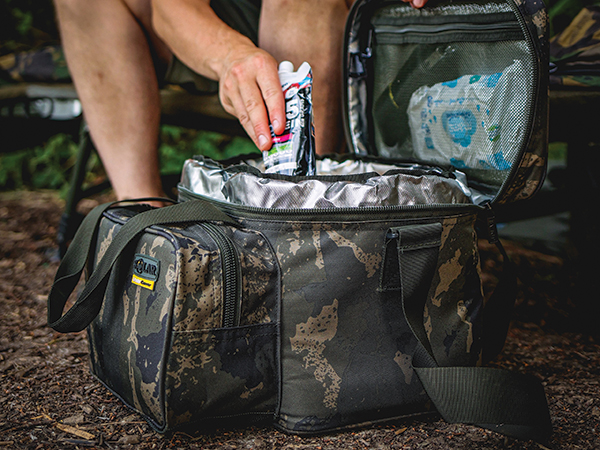 In order to protect delicate items during transit, a reinforced base has been utilised to help to prevent unwanted breakages. A large, zipped front pocket allows for storage of all manner of items such as cooking equipment, a mug or utensils. Another zipped pocket on the inside of the lid is perfect for keeping the smaller items that are regularly used.
Multi-Pouch
Retaining all of its original features whilst complementing the Undercover Camo range, you have two sizes of Multi-Pouch to choose from. The Compact version is more suited to the short session or mobile angler, and whilst there are fewer features found with the smaller of the two options you are still able to benefit from the 14 inner pockets found within each. Advantages of the standard Multi-Pouch include the innovative lid, which makes effective use of raised sides and can act as the perfect rig tying table or even a tablet stand. Both pouches feature magnetic internal dividers that become most useful when looking to access the main compartment. This area is spacious enough to store all manner of items including a headtorch, battery pack or even a bivvy light.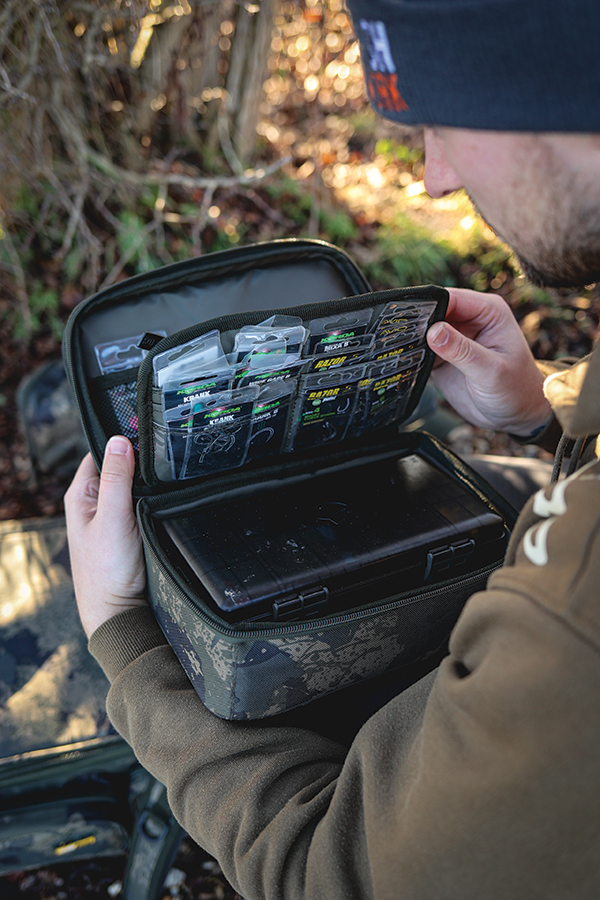 Rod Protection
A wide range of rod protection options from Solar means there are no excuses for not looking after your kit. Your rod, reel and line can undergo some serious pressure at times and the last thing you want to do is create any weakness when battling the fish of a lifetime. From the Tip and Butt Protectors to the Reel Pouches, all the way up to the Single Rod Sleeves and Holdalls, there is rod protection on offer for everybody.
To cater for the modern angler, there are various lengths of sleeves and holdalls available including 10ft, 12ft and 13ft variants. The most premium product, which offers the very best protection is that of the Rod Holdall. Although only available in 12ft and 13ft sizes at present, the generous padding, internal dividers and alloy spine for rigidity create peace of mind that your kit is in very good hands.
Accessory Pouch
It is often being stressed that efficiency is key, but it is just simply nice to be organised on the bank without having to scramble through an entire jumble of tackle in order to locate one item. The various sizes of accessory pouches found in the Undercover Camo Luggage range therefore allow for storage of different sized items that can then be stowed neatly and tidily inside larger luggage pieces. Whichever size you choose, every pouch incorporates double zips for ease of access, a carry handle and PVC backing for enhanced durability. Should you be looking for a place to deposit your collection of leads, pots of pop-ups, PVA or various hook links then look no further!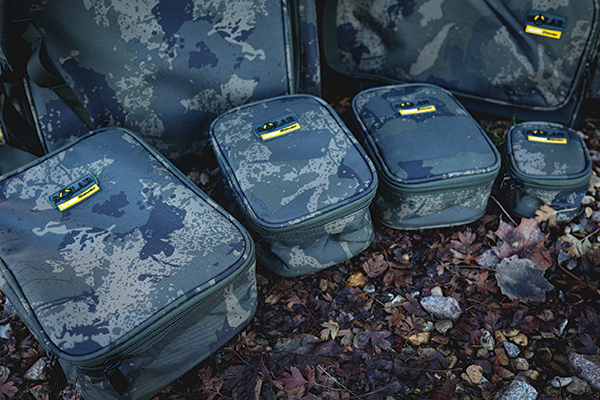 Solar Undercover Camo Luggage:
•Accessory Pouch Tiny £7.99
•Accessory Pouch Small £11.99
•Accessory Pouch Medium £14.99
•Accessory Pouch Large £17.99
•Carryall Medium £45.99
•Carryall Large £57.99
•Cool Bag £34.99
•Multi-Pouch Compact £31.99
•Multi-Pouch £36.99
•Tip & Butt Protectors £10.99
•Reel Pouch £15.50
•Single Rod Sleeve 10ft £24.99
•Single Rod Sleeve 12ft £26.99
•Single Rod Sleeve 13ft £28.99
•3+2 Rod Holdall 10ft £65.99
•3+2 Rod Holdall 12ft £72.99
•3+2 Rod Holdall 13ft £79.99
•Rod Holdall 12ft £109.99
•Rod Holdall 13ft £119.99
Website - www.solartackle.co.uk