RIDGEMONKEY | Hunter 750 Bait Boat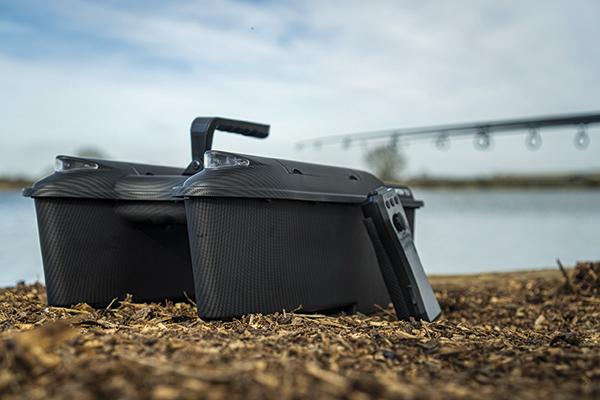 Utilising its proven expertise and knowledge in lithium power RidgeMonkey is proud to bring its first ever bait boat to the market, in this feature packed compact design named the Hunter 750!
Weighing in at no more than 2.5kg and measuring in at 410 (L) x 265 (W) x 155mm (D) this is a compact and lightweight design that finds itself perfectly situated to locating and targeting areas on small intimate waters previously unfishable, with unrivalled precision and accuracy.
Don't be fooled into thinking that this product is simply built for those situations however, oh no. Boasting two powerful ultra-quiet twin motors, that are powered by two 5,000mAh 30W lithium polymer batteries, the Hunter 750 can easily be used for up to four hours run time, and has been tested to ranges of 200 metres, making it a nimble and worthy tool on even larger pits both here in the UK and in Europe.
The sleek design of the boat ensures that the appropriately named Hunter cuts through the water with ease, and thanks to the built-in weed guards on both motors, using the boat year round will never be an issue, offering an effortless and efficient voyage time after time.
As well as being small in size, careful consideration went into designing the loading and hopper facility, ensuring no space was wasted, which results in a generous bait capacity of up to 1kg. What's more and often expected with the guys at RM, is an industry first in that the Hunter 750 is the first ever fully top-loading bait boat; not only do you load all of your bait, but you can say goodbye to having to load your rig from the bottom, which can often be a time-consuming and fiddly procedure.
Other worthy features include highly visual built-in lights on both the front and the rear so you can keep track and manoeuvre the Hunter in poor light conditions and at night, perfect when the action is coming thick and fast and you need to keep the area topped up and get baited rigs deployed fast and efficiently. In order to make sure you are never left short of power, the research and development team have included a built-in highly visible battery power meter so you can keep on top of your energy levels, and thanks to yet another industry first both batteries can be charged right there on the bank with a Power Bank and a simple USB-C outlet. Batteries take approximately two and a half hours to charge so this is perfect to charge throughout the night or to keep topped up when not in use.
What really caught our eye though, was the remote. Designed to be used single-handedly, this small antenna-less unit allows the user to have ultimate control, while still keeping one hand free to hold your rod, adjust line lay or carry out other important tasks when deploying your bait and rig. Boasting IP55 water and dust resistance, the durable unit will offer range up to 200 metres and can be kept outside with the boat with no fear of water or condensation affecting its use next day. Ergonomically designed with a rubberised grip for user comfort the main control is operated via an easy to use thumbstick and just three additional buttons, making it one of the simplest bait boats to operate we have ever come across. The remote is also charged via USB-C and has an LED power meter keeping you in charge of everything right at your fingertips.
We cannot wait to see one of these little beauties out on the water, and if we get the chance to get our hands on one, then keep your eyes peeled for a further review in a future issue!
RRP: £499.99
WEBSITE: www.ridgemonkey.co.uk