NEW DIRECTION TACKLE | Bait Boat 2 with Deeper Chirp (Video)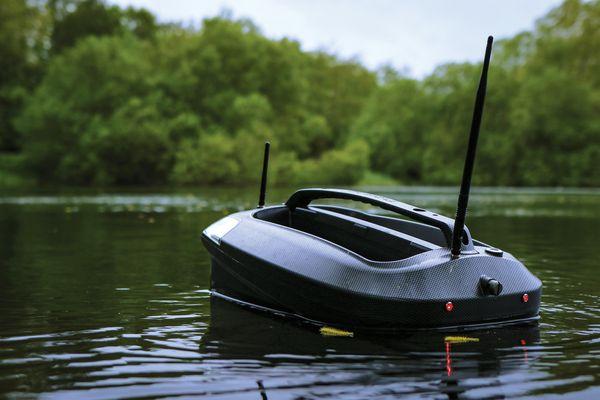 There is no denying the effectiveness of bait boats for a multitude of carp angling situations, whether it be intimate small ponds or large inland seas. What really can transform a bait boat from being just a baiting tool to an invaluable piece of fishing tech is the addition of a sonar device. Well New Direction has done exactly that, it has taken the sleek and affordable Bait Boat 2 that found great popularity among anglers and has seamlessly integrated an ingenious Deeper Chirp+ device to uncover what lies beneath the surface.
Measuring in at 25cm high, 40cm wide and 62cm long the ND Bait Boat 2 weighs just 5.5kg and can safely and efficiently transport up to 3kg of bait per trip. The bait boat utilises two industrial jet drives for a fast and responsive propulsion and being jet driven as opposed to propellers means the device won't become hindered when weed growth is prevalent.
The range of the bait boat does depend on weather and environmental conditions, as does all tech, but on a clear line of sight and when conditions are prime, distances of accurate navigation and remote signals have been recorded up to and over 300 metres. Taking just four to five hours to fully charge, the ND Bait Boat 2 will drive up to four miles per charge – even on the biggest of waters, it seems nowhere is out of reach!
The handset itself provides single-handed control over the craft through a simple to use toggle stick, with several buttons for different functions, so simultaneously holding your rod and controlling line lay is both simple and effective.
With two hoppers working independently of each other, you can bait various spots on one journey or equally spread bait throughout your spot as opposed to just discharging everything in one go. A single independent hook release allows you to discharge bait and rigs independently of each other, which is perfect for fishing the edge of your baited spot, and equally giving you unrivalled accuracy depending on your baiting and rig placement strategy.
The Bait Boat 2 has two ports built into the handle, allowing additional devices such as cameras to be attached to be able to really delve deeper into your own angling, making this far from just a bait delivery service but an eye opening watercraft exploration device.
The inbuilt Deeper Chirp+ Sonar provides a highly accurate reading of the depth and lake bed, enabling you to easily map the topography of the lake, revealing bars, gulleys, weed and other valuable changes and substrates for you to target. The long antenna fitted to the rear of the boat improves signal back to the user for minimal interference and the standard 100m range between the Deeper and Smartphone APP can be further extended to over 200 metres using the separate ND Wi-Fi Sonar Range Extender for an additional £99.
The device itself can be monitored throughout the app, including displays and battery level indicators, ensuring you are never caught short when exploring that next important feeding zone. Interestingly, if you activate the Autopilot on the Bait Boat 2 device (additional purchase), it is simple to automate your bathymetric map as well as being able to locate spots and return home independently, without you having to navigate or control the boat, which is perfect, when rebaiting and dropping rigs in the hours of darkness.
When using the Bait Boat 2 with a fishfinder like the Deeper you can use New Directions very own app with the fishfinder app in parallel. This not only shows the boat on the map in real time on one half of the screen, but you also see the water structures, water temperature and substrate in real time, meaning you can draw instant correlation and find invaluable spots with far bank markers and skyline indicators with ease. As you are doing this you can actively record the boat's journey and save spots for faster deployment next time around!
Another nice recent addition to the ND range is the new Boat Backpack for safe and efficient transportation and protection of your Bait Boat 2! With a rigid base, boat cover, extensive padding and a whole host of pockets to accommodate your accessories, you can ensure everything is to hand and protected.
RRP: £949
WEBSITE: www.newdirectiontackle.co.uk
To find out more about New Direction Tackle Bait Boat 2 with Deeper Chirp, watch the video below.