CC MOORE | Pink Pop Ups & 12mm Air Ball Wafters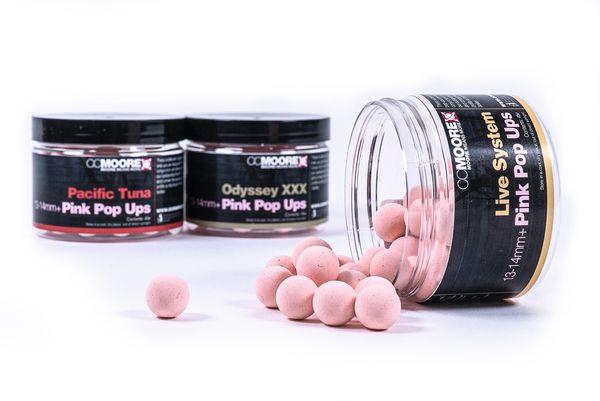 With their washed-out pink colour, CC Moore's new Pink Pop Ups are exceptionally visual in any water clarity and will leak their respective unique flavour blend for a sustained duration. Developed using the flavour profiles of the reputable Live System, Pacific Tuna and Odyssey XXX, these will make a fantastic visual hook bait over matching flavoured bottom baits, while also being equally at home for single hook bait fishing but bag work too.
Reliable and long-lasting buoyancy ensures the effective mechanics of many of today's popular pop-up presentations, including the chod rig, hinged stiff rig and Ronnie rigs. Each pot contains 45 extra-firm, 13-14mm pop-ups, and these little pink beauties can even be enhanced further with a matching Hookbait Booster.
As with the pink pop-ups, the new 12mm Air Ball Wafters from CC Moore are also available in the Live System, Pacific Tuna and Odyssey XXX flavours. A decision was made to create matching hook baits to outwit the wiliest of carp, utilising the same base mixes as the food baits and to make a hook bait that is not critically balanced, but instead mildly buoyant. Because hook sizes, rig components and materials differ with each angler it was a logical option to allow the user to create the ultimate slow-sinking presentation by trimming the wafters down themselves with a pair of scissors or a small sharp knife.
The Air Ball Wafters are available in three sizes: 18mm, 15mm and now 12mm.
RRP: £6.99/£6.49
WEBSITE: www.ccmoore.com